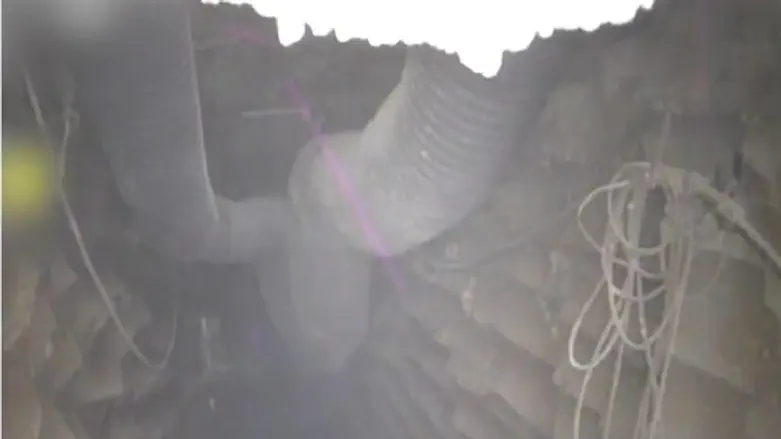 inside Hezbollah terror tunnel
screenshot
The Hezbollah operative last seen running through a terror tunnel in a white and blue striped shirt has been identified.
On Monday, Israel embarked on an operation to destroy Hezbollah-dug tunnels snaking under its border with Lebanon. Later that evening, the IDF released footage of a Hezbollah member walking through one of the tunnels it had located. Upon approaching the hidden camera, the device self-destructed, sending the operative running.
Now, i24 News has identified the man fleeing the tunnel as Izz a-Din Pahas, a senior Hezbollah member who commands its recon and tunnel unit. Pachas, in his thirties, is married with two children and has a Doctorate in Mechanical Engineering from a university in Tehran.
Following the IDF's video, several Arab media outlets had contended that the man in the clip was a drug dealer unconnected to Hezbollah.
IDF forces have already unearthed one terror tunnel on Tuesday morning since the campaign began. The tunnel, apparently built by Hezbollah terrorists, originates in the southern portion of the Lebanese town of Kafr Kela. The tunnel crosses over into Israeli territory, however, and is believed to have been dug for use in an upcoming terror attack on Israeli targets.
"The Hezbollah terror organization, which is responsible for digging the cross-border attack tunnels, continues its activity that is supported and funded by Iran, to establish its terror infrastructure against Israeli civilians," an IDF spokesperson said.