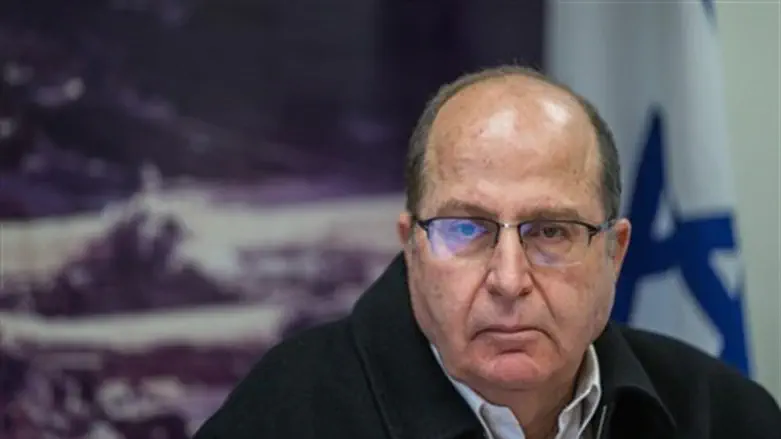 Moshe Yaalon
Yonatan Sindel / Flash 90
Former Defense Minister Moshe 'Bogie' Ya'alon admitted that he lied when he said multiple times that there were no Hezbollah tunnels inside Israel.
Ya'alon's remarks come as Israel launched an operation earlier this week that seeks to expose and neutralize the terrorist tunnels Hezbollah has dug into Israeli territory.
For years, Israelis living near the Lebanese border had reported hearing sounds of digging but were assured by Ya'alon and others within Israel's defense establishment that Hezbollah was not tunneling into Israel.
"In the north, we have not discovered anything to this day," Ya'alon had said in 2015. "There is no good reason for Hezbollah in the north to dig tunnels, you can sneak in [to Israel] via riverbeds and you do not have to invest in tunnels."
Yet on Thursday, Ya'alon admitted that he had publically dismissed reports of Hezbollah tunnels in order to calm down residents of northern Israel and to fool Hezbollah into thinking that Israel remained unaware of their tunnel project.
"My comments two years ago that there are no tunnels in the north was a lie in order to preserve the security of the state. I didn't want Hezbollah to know that we knew," Ya'alon told Army Radio.
"I did not want to just calm people down, I did not want to inform Hezbollah, that they would know that we knew," Ya'alon said. "I kept talking about this as if there weren't any but already in 2014 we were prepared and did the necessary actions."
The former defense minister also rejected claims that Prime Minister Netanyahu had decided to embark on the anti-tunnel campaign in order to distract from his legal woes.
"The one that is [in charge of this] is the army," said Ya'alon. "The fact that politicians make political capital is another story. There is some exaggeration, but I hope it does not hurt, but the professional decision and the initiative were made within the army. "
On Tuesday, the IDF announced that it had launched an operation along the northern border to locate and neutralize cross-border 'terror tunnels' from southern Lebanon built by the Hezbollah terror organization.
IDF forces have already unearthed one terror tunnel on Tuesday morning since the campaign began. The tunnel, apparently built by Hezbollah terrorists, originates in the southern portion of the Lebanese town of Kafr Kela. The tunnel crosses over into Israeli territory, however, and is believed to have been dug for use in an upcoming terror attack on Israeli targets.
"The Hezbollah terror organization, which is responsible for digging the cross-border attack tunnels, continues its activity that is supported and funded by Iran, to establish its terror infrastructure against Israeli civilians," an IDF spokesperson said.