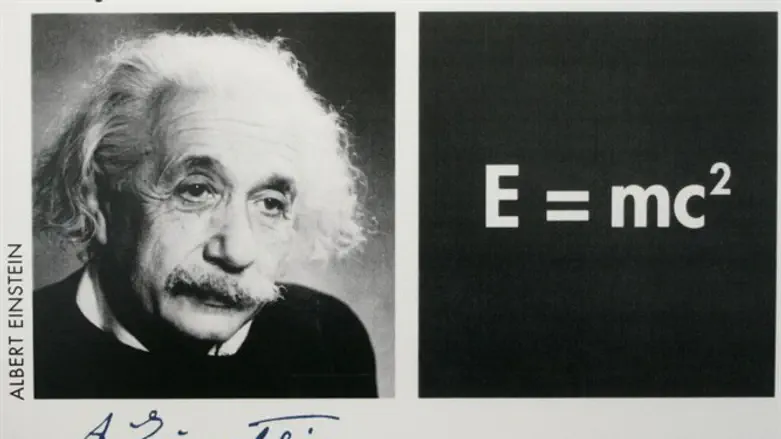 German stamp in honor of Albert Einstein
Reuters
A handwritten letter by Albert Einstein on religion, his Jewish identity and his search for meaning in life has been sold at an auction for nearly $3 million, more than seven times the amount from a decade ago, JTA reported on Wednesday.
Einstein wrote what was dubbed "The God Letter" to philosopher Eric Gutkind, in 1954. It sold Tuesday at Christie's for $2,892,500, nearly doubling the estimated sale price, according to the report.
In 2008, the letter was sold at auction to a private collector for $404,000. The same letter went up for sale on eBay in 2012.
"The word God is for me nothing but the expression and product of human weaknesses, the Bible a collection of venerable but still rather primitive legends," Einstein wrote in that letter.
"For me the unadulterated Jewish religion is, like all other religions, an incarnation of primitive superstition," the letter also said. "And the Jewish people to whom I gladly belong, and in whose mentality I feel profoundly anchored, still for me does not have any different kind of dignity from all other peoples.
In June, a letter co-written by Einstein and his wife on the day he renounced his German citizenship, after realizing he could not return due to the rise of the Nazis, was sold at an auction in Los Angeles.
In March, a violin once owned by the legendary physicist sold for $516,500 at the New York-based Bonhams auction house.
The instrument, which reportedly was gifted to the scientist in 1933 by Oscar Steger, a member of the Harrisburg Symphony Orchestra, went for over three times its estimated price.
A week earlier, a letter penned by Einstein discussing one of his groundbreaking theories sold in an auction in Jerusalem for over $100,000.
In June of last year, Winners sold letters written by Einstein about God, Israel and physics for nearly $210,000, with the highest bid going to a missive about God's creation of the world.
The highest bid of $84,000 was for a letter to eminent physicist David Bohm.