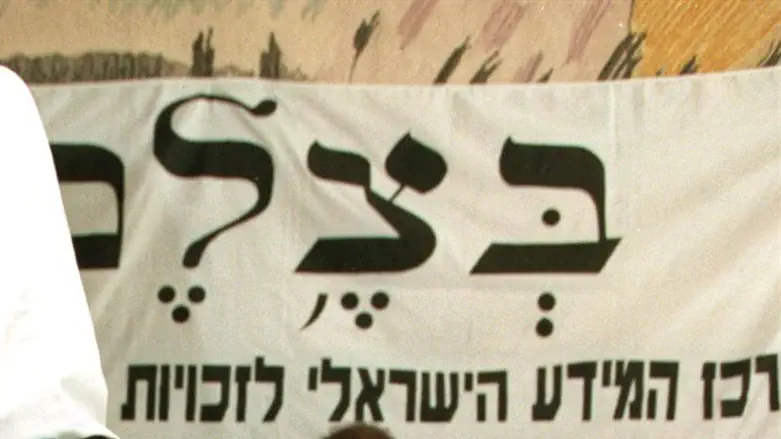 B'Tselem
Flash 90
The radical B'Tselem organization and an Arab organization with ties to a terrorist organization are set to receive the French Republic 2018 Human Rights Award next week.
Al-Haq, a group with ties to the the Popular Front to Liberate Palestine (PFLP), will jointly receive the award from French Justice Minister Nicole Belloubet in Paris on December 10.
Both organizations are highly critical of the State of Israel, with Al-Haq being a leader in the global anti-Israel BDS campaign.
Al-Haq General Director Shawan Jabarin was convicted of recruiting for the PFLP in 1985.
B'Tselem director Hagai El-Ad praised Al-Haq in his response to the award.
"It is a particularly special honor to receive this award – together with our colleagues from Al-Haq – on the 70th anniversary of the Universal Declaration of Human Rights. We, at B'Tselem and Al-Haq, share the same values and the same realization: that only by ending the occupation can there be a future based on human rights, equality and liberty," El-Ad said.
The award announcement drew criticism from leaders in Israel and France.
French MP Meir Habib slammed the decision to award B'Tselem and Al-Haq. "I represent the 150,000 French living in Israel, as well as the French citizens living in Gaza and Judea and Samaria. I am again struck by France's obsession with what they call "the occupation." We Frenchmen choose again to see reality in a distorted way. How can a human rights prize be awarded to organizations that treat terrorists as freedom fighters? How do human rights values ​​coexist with the ceaseless activity of these organizations to boycott the State of Israel? Why is there no reference to the human rights of Israelis who have suffered from constant terrorism?"
"Especially after the terrorist attacks that hit us, it is time for France - the state of values ​​of equality and freedom - to change the narrative and start treating things as they really are: Terrorism is terrorism and a boycott is a boycott. Today's prize destroys peace and puts the mark of Cain on the forehead of the French Republic," Habib added.
Israeli Culture and Sports Minister Miri Regev stated: "This is not a source of pride, and Hagai Elad and the other members of this organization, who has long been a Trojan horse against the State of Israel and IDF soldiers. There is no reason to be happy. This is not a prize - it is a badge of shame and an official stamp of approval for anti-Israel organizations."
Minister Regev added: "On one platform, alongside B'Tselem, the representatives of the Palestinian organization Al-Haq, which acts for BDS boycotts against the State of Israel and whose head is Shawan Jabarin, who belongs to the Popular Front for the Liberation of Palestine, This is a matter if great shame and not of honor."