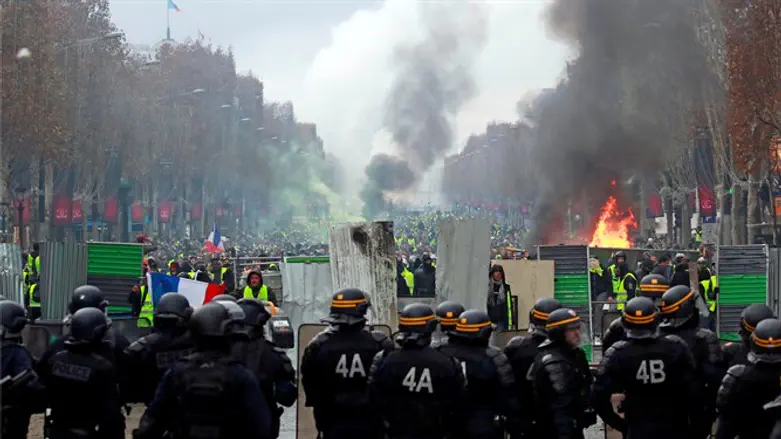 Paris anti-fuel tax riots
REUTERS
A group of French activists protesting new fuel taxes has nixed a planned meeting with French Premier Edouard Philippe Tuesday, after some protesters decried plans to launch negotiations with the government.
Since mid-November, hundreds of thousands of protesters, known as the "Yellow Vests" for the high-visibility safety vests many of the demonstrators wear, have clashed with police in Paris, resulting in dozens of arrests, at least four fatalities, hundreds of people being injured, and numerous acts of vandalism, including at the Arc de Triomphe.
Outside of the French capital, protesters blocked roads and ports, including Fos-sur-Mer, near Marseille. The closure of the port's fuel station has resulted in fuel shortages across the country.
Since the demonstrations first began on November 17th, the Yellow Vests have demanded the government cancel a planned increase in diesel fuel taxes, scheduled to go into effect on January 1st.
The initial November 17th protest in Paris drew some 300,000 demonstrators, and while subsequent demonstrations declined in size, the two subsequent Saturday rallies topped 100,000 and 125,000 each.
As the protest movement continues with no end in sight, an Israeli lawmaker has offered his country's assistance in reaching a peaceful solution.
Deputy Minister for the Prime Minister's Office and former Israeli Ambassador to the United States Michael Oren (Kulanu) mocked previous French efforts to lead the Middle East peace process, tweeting Monday night that Israel was ready to "return the favor" and host a peace conference for France.
"Since France is always proposing peace plans and conferences for Israel, why not return the favor and have Israel host an international peace conference for France? The four-estate solution?"
Oren later retweeted a comment suggesting a "two-state solution" to resolve the conflict in France, spoofing efforts by the French government to promote a two-state solution in Israel.
"France under @EmmanuelMacron in 2018. Israel should propose a "two-state solution" and call for a "peaceful" partition of France with agreed upon borders as set by the Int'l community."
In 2016, France announced plans for an international peace summit, intended to culminate in a final status agreement between Israel and the Palestinian Authority.
French Foreign Minister Laurent Fabius warned Israel that his country would unilaterally recognize Palestinian statehood if France's bid for a mutually-agreed upon deal failed.
A year before, France pushed an initiative for a UN Security Council resolution that would have forced Israel into an 18-month negotiation period with the PA.
This year, French President Emmanuel Macron urged President Donald Trump not to relocate the US embassy to Jerusalem, and later publicly decried the move.