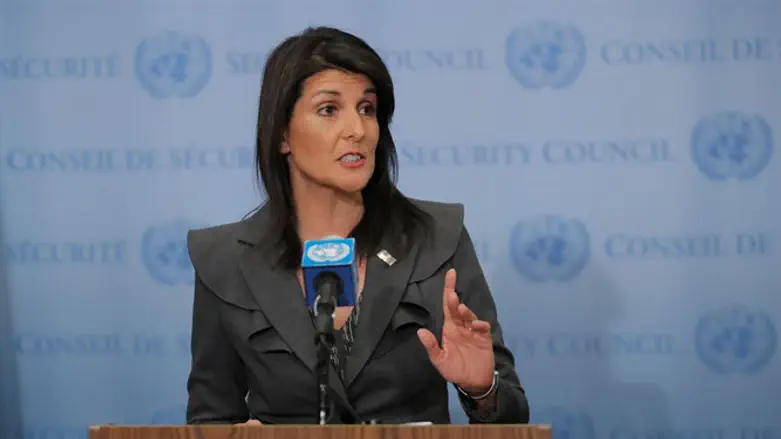 Nikki Haley
Reuters
US Ambassador to the UN Nikki Haley on Monday responded to an open letter that was sent by families of political prisoners in Iran.
"The Iranian regime's long history of human rights violations are well known. Judicial cases, trials, and sentences continue to proceed without transparency and due process for Iranian citizens as well as citizens of other countries unjustly imprisoned by the regime in Iran, including several American citizens. The families of several of these prisoners have united in writing an open letter to world leaders, the heads of human rights organizations, and the news media to raise awareness of the plight of their loved ones," said Haley.
"Our hearts hurt for the families around the world whose loved ones have become political prisoners in Iran. Iran's awful practice of detaining other countries' citizens – including Americans – is just another example of Iran's violations of international norms. Iran invented reasons to throw these innocent people in jail and keeps them there with no end in sight and no fair judicial process for them to pursue. They should be released immediately and returned to their families. We won't rest until they are," she added.
The letter, which was sent by the families to world leaders, rights organizations and media outlets, asked for urgent action to be taken to bring about the release of the prisoners.
"We come from many countries, with different backgrounds and different perspectives, but we have banded together now to come to you as one voice. We shall remain quiet no longer," the families wrote.
"In September 2018, at a side event during the United Nations General Assembly, several of our families gathered together for the first time to share stories and struggles about getting our loved ones released. We met again a few weeks ago, this time to share our testimonies with the UN Special Rapporteur on the human rights situation in Iran. The similarities between our loved ones' cases is striking. Each story is not just a case of arbitrary detention, but deliberate and tactical moves by the Iranian authorities to secure bargaining chips," they wrote.
The letter was written by the families of Ahmadreza Djalali, a Swedish-Iranian scientist who was arrested by the Ministry of Intelligence of Iran in March of 2016; Kamran Ghaderi, an Austrian-Iranian citizen and IT consultant who was arbitrarily detained at the airport when he arrived from Vienna to Tehran for a regular business trip in January 2016; Siamak Namazi, who was arrested, tried, and summarily convicted and sentenced to 10 years in prison on charges of "collaborating with a hostile state," referring to the United States; Baquer Namazi, Siamak Namazi's 82-year-old father who was also given a 10-year sentence on charges of collaborating with a hostile state; Nizar Zakka, a Lebanese national and US legal permanent resident who was invited to Iran by the Vice President for a women empowerment conference and was kidnapped by the IRGC on his way to the airport after the conference; Saeed Malekpour who was wrongly imprisoned in October 2008 when he traveled to Iran from Canada to say goodbye to his dying father; and Robert Levinson, an American citizen and former FBI agent who "disappeared" on Kish Island, Iran in 2007.