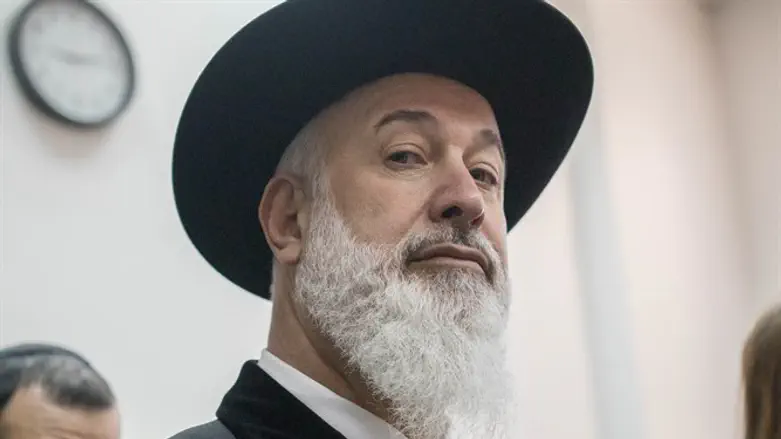 Yona Metzger
Flash 90
A decision by an Israeli investigative television show to air footage of disgraced former Chief Rabbi Yonah Metzger in the police interrogation room caused outrage.
Channel 10's 'Hamakor' program announced on Thursday that it would air a special episode next week that delved into the police probe of Rabbi Metzger. The rabbi is currently serving a prison sentence after being convicted for bribery.
"The plea bargain between Metzger and the state prevented the public from becoming deeply acquainted with this corrupt case," the Hamakor program tweeted. "[Channel 10 reporter] Raviv Drucker came to correct the distortion with investigative materials and documentation from the interrogation rooms."
The footage shows the rabbi in many humiliating positions, including being screamed at by police investigators and sobbing after he confessed his guilt to a slew of charges.
The announcement that the public would soon be able to witness the police grilling of Rabbi Metzger sparked outrage, with many journalists and public figures alleging that the footage "humiliated' the rabbi.
"What is the purpose of airing this? After all, he was punished. He's in jail. Why humiliate him and show him crying during interrogation? Why?" tweeted senior journalist Eral Segal. "Don't talk to me about law and justice- you're building ratings at the expense of someone who has already fallen to the lowest depths."
"What kind of 'correction' is the publication of documentation of a person crying in interrogation rooms after he confessed, was convicted and is in prison?" asked haredi journalist Moshe Glassner.
The former Ashkenazi chief rabbi has been serving out his jail sentence in Ramle's Ma'asiyahu Prison since May 2017.
Rabbi Metzger was accused in 2005 of corruption, with allegations ranging from bribery, tax evasion, to obstruction of justice. The case was closed, however, in 2006 for lack of evidence. But in 2013, new claims of wrongdoing prompted the reopening of the investigation, culminating in the arrest of Rabbi Metzger in November 2013.
In January 2017, Rabbi Metzger agreed to a plea bargain arrangement with prosecutors, under which he would plead guilty to accepting bribes, tax evasion, and obstruction of justice and would serve a three-and-a-half year term.
A district court rejected the plea bargain agreement in February, sentencing the rabbi to four and a half years in prison.