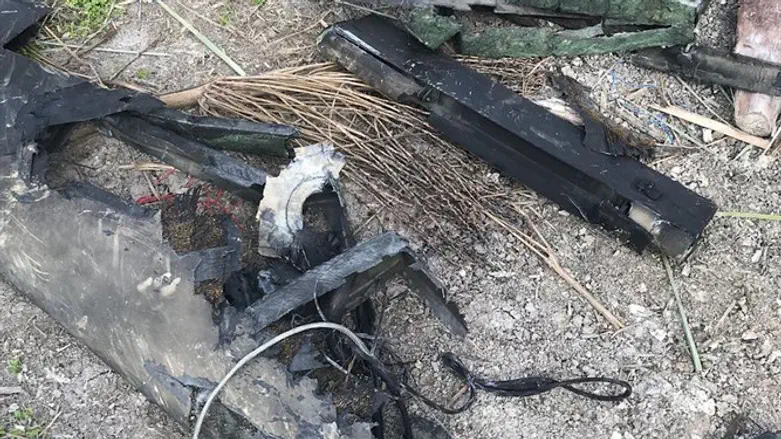 Remnants of Iranian UAV downed by IDF
IDF Spokesperson's Unit
Intelligence sources in the West have identified improvements and technological progress in Iran's array of unmanned aerial vehicles (UAVs), Kan 11 News reported on Wednesday.
According to the report, security agencies in the world have recently identified the use of the same Iranian-made aircraft by the Houthi rebels in Yemen.
Yemen, it seems, has turned into a field of experimentation for the Iranians, and this development is troubling for several countries in the region, including Israel and Saudi Arabia, according to Kan 11.
A senior diplomat said that the United States and Saudi Arabia intend to cooperate to examine the progress that has been made in the Iranian UAVs. Saudi Arabia has suffered a number of attacks by the Houthi rebels, which have included the firing of rockets into the Saudi capital, Riyadh.
Israel, too, is monitoring the developments, the report said, with the understanding that what is operating in Yemen is gaining "operational experience" and can also be used in other areas, closer to the Israeli border.
A Saudi-led Arab military coalition has been fighting the Iranian-backed Houthi rebels over the last few years.
It has long been believed that Iran is planning to use the Houthis to take over Yemen and seize the key strategic port of Aden, which controls the entrance to the Red Sea and ultimately to the Israeli resort city of Eilat.
Iran denies it is backing the Houthis and has also denied Saudi Arabian accusations that Tehran provided the Houthi rebels in Yemen with ballistic capabilities.