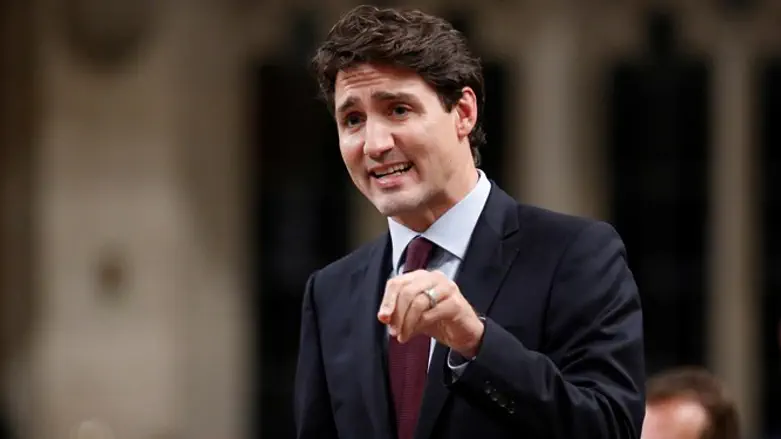 Canadian Prime Minister Justin Trudeau
Reuters
Canada on Wednesday joined in on the condemnations of Iranian President Hassan Rouhani, who referred to Israel as a "cancerous tumor" last week.
"Canada condemns remarks made by Hassan Rouhani at the International Islamic Unity Conference, calling into question the legitimacy of Israel. Canada's commitment to Israel's security is unwavering and ironclad and we fully support Israel's right to live in peace," said a statement by Global Affairs Canada, the department in the Government of Canada that manages Canada's diplomatic and consular relations.
In his remarks at last weekend's conference, the Iranian President also urged Muslim nations worldwide to unite and destroy Israel while adding that Israel is a "fake regime".
The remarks have been widely condemned around the world. Austrian Chancellor Sebastian Kurz said, "I strongly condemn the unacceptable statements by President Rouhani regarding Israel. Questioning Israel's right to exist and calling for its destruction is absolutely unacceptable."
On Sunday, the European Union also condemned Rouhani's comments, saying, "President Rouhani's remarks bringing into question Israel's legitimacy are totally unacceptable. They are also incompatible with the need to address international disputes through dialogue and international law."
The German Foreign Ministry on Monday condemned the remarks as well, saying, Israel's right to exist cannot be called into question and is non-negotiable. Germany will not tolerate any attempts to alter this."
Rouhani's vitriol against Israel is nothing new, as Iranian leaders have continuously called for Israel's destruction, including Rouhani who has been touted by some as a "moderate" president.
Earlier this year, Rouhani said that Israel "can never feel safe" because it is "oppressing the Palestinian nation".
The Iranian president has in the past called Israel "illegitimate" and lamented that the crisis in Syria has made it difficult for Iran to focus on harming Israel.
Shortly after being elected in 2013, Rouhani called Israel an "old wound" that "should be removed". Iranian media later claimed that Rouhani's remarks were distorted.