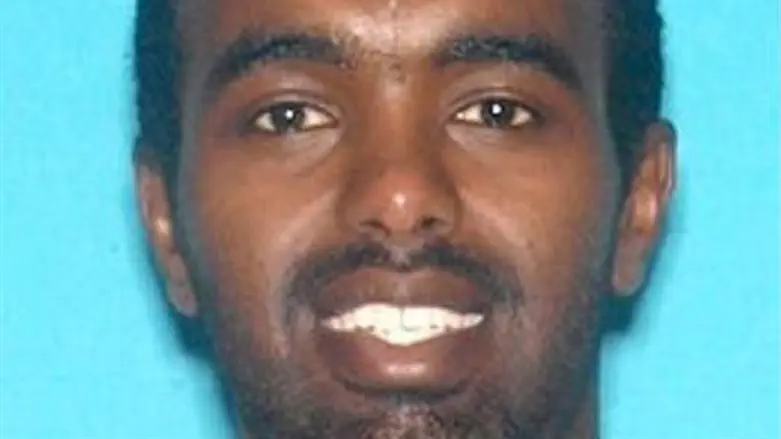 Mohamed Mohamed Abdi
Los Angeles Police Department
Authorities in Los Angeles have indicted a 32-year-old man with two counts of assault with a deadly weapon and hate crime charges, after he nearly ran down two Orthodox Jews outside of a synagogue Friday night.
At approximately 9:30 p.m. last Friday night, a car driving in the Hancock Park neighborhood suddenly swerved towards a group of Orthodox Jews outside of the Bais Yehuda synagogue, nearly hitting two men, ages 37 and 57.
After the car missed the pedestrians, the driver pulled around in a U-turn and tried to run down the would-be victims a second time.
When he missed them a second time, the driver struck a traffic sign. He then exited the vehicle, started screaming obscenities and anti-Semitic curses, before driving off.
The driver later crashed his car into another vehicle, and was subsequently arrested.
On Tuesday, prosecutors identified the suspect as Mohamed Mohamed Abdi, a Somalian native born in Mogadishu, and later accepted into the US as a refugee and eventually naturalized.
Abdi was a resident of Seattle, Washington, where he had worked as a Lyft driver. A representative for Lyft said, however, Abdi had not been driving for the company at the time of the attack, and was now banned from working for Lyft.
After being charged with two assault with a deadly weapon charges and a hate crime, Abdi pleaded not guilty. His bail was placed at $500,000, and remained in custody in lieu of posting bail.
Deputy District Attorney Richard Ceballos said Abdi rented a car Friday, then drove down the coast to Los Angeles – a roughly 18-hour trip.
Los Angeles Police Department officers say they found a copy of the Koran and a knife in Abdi's rented vehicle at the time of his arrest.
Despite his anti-Semitic comments during the attack Friday, Abdi's family denied he held any animus towards Jews, and claimed that he was suffering from schizophrenia.
"Mohamed's mental illness renders him unpredictable and unstable, however, he has never expressed particular hatred toward Jews, or any other group of people or minority," Abdi's family said in a written statement.
But LAPD police chief Michael Moore said the attack was a sign that hate crimes are becoming more common in the US.
"He's yelling out hateful remarks regarding Jewish heritage and regarding these people of faith," Moore said. "Hate in America is on the rise. That has to change."