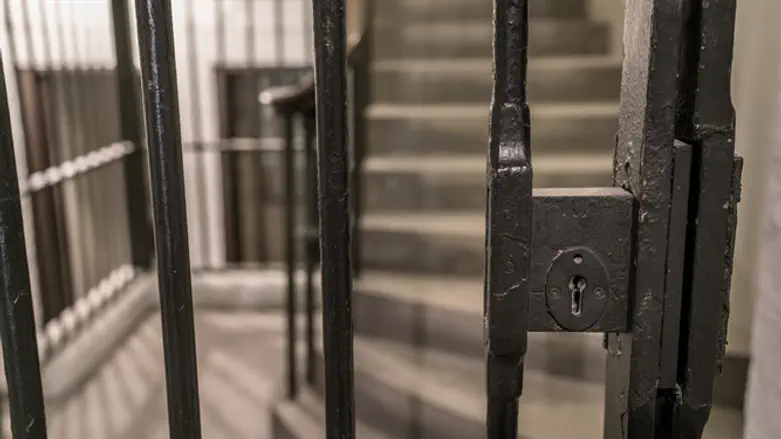 Jail (illustration)
iStock
The official Palestinian Authority (PA) Wafa news agency reported on Monday on the remand hearing of a suspect in transferring land to the "enemy", meaning Israeli officials in eastern Jerusalem.
According to the wording of the report in Wafa, a Ramallah court ordered the extension of the detention of the suspect, who was identified only as AA, and accused him of trying to cut off a portion of the "Palestinian territories" and transferring it to a hostile state in violation of PA law.
Under Palestinian Authority (PA) law, the selling of land to Jews is illegal and punishable by death. However, such sentences must be approved by the PA chairman, and current chairman Mahmoud Abbas has preferred to authorize life sentences for such offenses, possibly due to fear of an international backlash.
In 2014, Abbas toughened the PA law against selling property to Israeli Jews, so that any Palestinian Arabs involved in renting, selling or facilitating real estate transactions with citizens of "hostile countries" in any way would receive life imprisonment and hard-labor.
In October of this year, the PA cabinet headed by Rami Hamdallah condemned what it called "the settlers' takeover of a historic property in the area of ​​the Al-Aqsa Mosque under the protection of Israeli military officials."
The announcement referred to the sale of an old home in "Aqaba Darwish" in the Old City of Jerusalem to Jews.
In this context, Hamdallah announced the establishment of a commission of inquiry to examine the circumstances surrounding the sale of the house in Jerusalem, investigate the relevant officials, obtain documents and publish the results of the investigation in order to bring those responsible to justice.