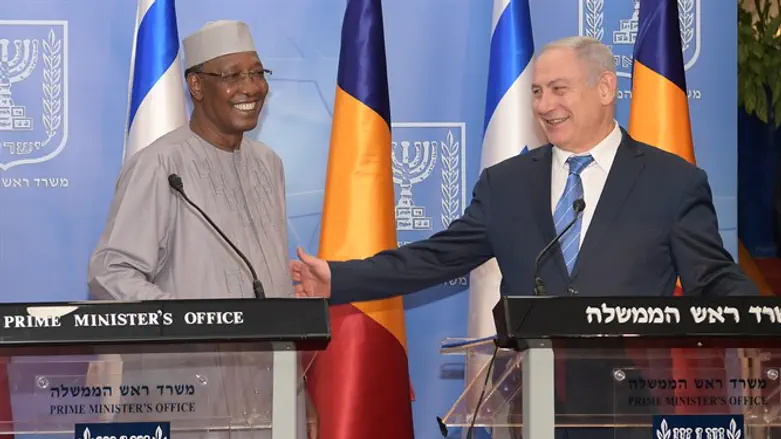 Netanyahu meets President Idriss Deby
Amos Ben Gershom/GPO
In the weeks leading up to Chad President Idriss Deby's visit to Israel, there was a significant disagreement between Netanyahu's advisers on the question of whether the visit should be held at any price or whether conditions should be set for the visit to occur.
According to the report, Foreign Ministry Director-General Yuval Rotem claimed that Deby should be invited to Israel only after he pledged to announce an immediate renewal of relations between the two countries.
Netanyahu's National Security Advisor, Meir Ben-Shabat, argued that he should be invited to Israel under any circumstances, and that Israel should be content with a statement of intentions on the part of the guest about his desire to renew relations in the foreseeable future.
Ben-Shabbat also explained that the importance of the visit is its very existence and the message he sends to Muslim countries. Netanyahu was in favor of the National Security Advisor's position in the end.
The director general of the Foreign Ministry, whose position was not accepted, protested that he did not take part in the official meeting with the president of Chad and at the dinner at the prime minister's home.
The Ministry of Foreign Affairs and the Director General of the Ministry have never objected to visits by heads of state, especially when they are heads of state with which Israel has no diplomatic relations.