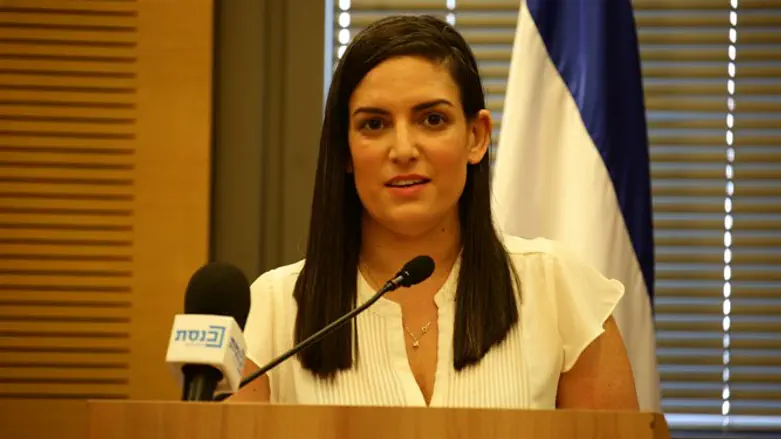 Ortal Tamam
Esti Dezyobov/TPS
Niece of tortured and murdered IDF soldier Moshe Tamam, medical student Ortal Tamam, addressed a press conference at the Knesset to explain why her family considers the Cultural Loyalty Law to be an "essential and basic law for the State of Israel".
Terrorist Walid Daka, who is serving a life sentence after being convicted of kidnapping and murdering soldier Tamam in 1984, "has turned into a celebrated cultural hero," says Ortal Tamam. "He writes books and poems, he writes blogs and shares his life - all the while my uncle lies deep in the ground, and we miss him terribly.
"But you didn't listen to us about this. Not because we didn't know he was writing those books, not because it didn't hurt us that he's writing plays. Not because it broke our hearts each time to see how people know what he did, and choose to venerate him.
"What's changed is that three-and-a-half years ago, the play A Parallel Time was produced, based on the writings and life of my uncle's murderer. But this time, the play was part of a 'cultural institution', subsidized with more than two-and-a-half million shekels per year from the Israeli taxpayer's money.
"My uncle's life was robbed of him while he was an IDF soldier, and now the State of Israel pays to produce a play by his murderer.
"I admit that I never dreamed of addressing this assembly, I never dreamed that a trivial thing, that had support from the entire political spectrum - also from Kahlon, also from Liberman, and also from Yair Lapid - and from almost the entire Knesset it would take almost three-and-a-half years of discussion. Who could see this as logical?
"In my medical studies they taught me there are no symptoms in the absence of disease, and so I checked and revealed that that very same 'theater', Al Medan, doesn't just revere murderers. It also - from taxpayer money and only taxpayer money - holds events in support of BDS, events to supports terrorists who committed murder all over the country, and of course held a fundraiser for terrorists who are currently in jail, and all this with Israeli funding.
"So I hope in this point it's clear to all why this isn't a discussion about Right and Left, because the fact that the State of Israel funds terrorists, supports and funds artists who idolize murderers of IDF soldiers, they support those who carried out attacks in Haifa - that shouldn't come out of our pockets.
"It's also not about freedom of speech. It's about the State's values, and whether it's proper for Israeli citizens to fund a culture that explicitly acts against us."
Tamam closed her address with a direct request from Ministers Kahlon and Liberman to vote for the Cultural Loyalty Law: "Put politics aside. This bill will fall because of you. Put politics aside, vote for this law, and give us one moment of justice."