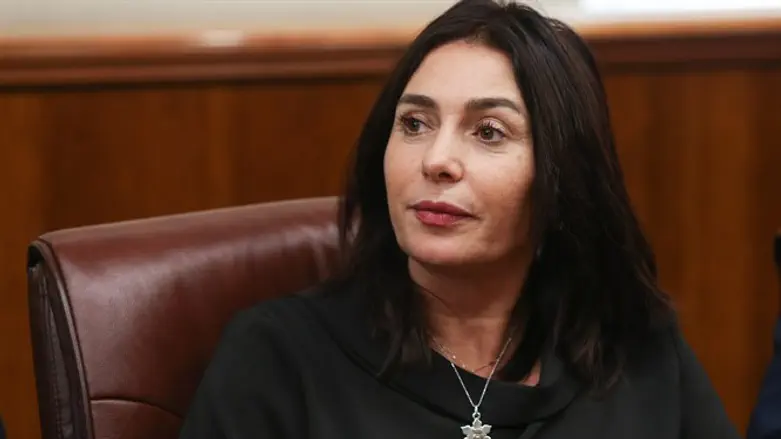 Miri Regev
Alex Kolomoisky/YEDIOTH AHRONOTH/POOL
Finance Minister Moshe Kahlon, chairman of the Kulanu party, on Sunday evening decided to grant members of his party the freedom to vote as they wish on the "Cultural Loyalty Bill" which had been scheduled to be brought for approval at the Knesset on Monday.
As a result, it is expected that the bill will not be brought forward for a vote due to the difficulty in achieving a majority of Knesset members who will vote in favor.
The bill, which is being promoted by Culture and Sport Minister Miri Regev, would permit the State to pull funding from cultural institutions that incite terrorism.
MK Rachel Azaria (Kulanu) indicated earlier on Sunday she intends to vote against the law. In an interview with Army Radio, she said, "I will find it difficult to support the law. You do not bring such a law for a vote when you have a coalition of 61 MKs. I hope that Regev will decide to postpone it. This is a law that gives too much power to the Minister of Culture."
Meanwhile, Meretz chairwoman MK Tamar Zandberg vowed, "We will not stop fighting until the law is completely erased and isn't approved using ugly underhanded opportunism. The sigh of relief by some of our friends from Kulanu, who were rescued tonight from another stain on their voting record, could be heard all over the country."
"I call on all the artists and activists: Do not be discouraged. The public struggle is working and we are closer than ever to moving this law to its proper place - the trash can of history," added Zandberg.
As of Sunday night, the Yisrael Beytenu party which is now in the opposition, had not announced its support for the "Cultural Loyalty Bill" due to the coalition's refusal to support the death penalty for terrorists bill, which is being promoted by Avigdor Liberman's party.
Regev had earlier urged Liberman to support her bill, saying, "I don't believe Liberman will vote against the law together with Ahmed Tibi and award a prize to terrorists and terror in the form of financing glorifying terrorists from state funds."