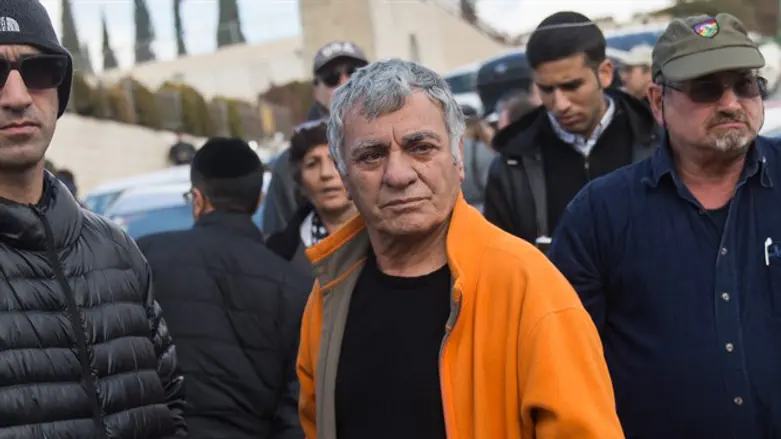 Gavri Banai
Hadas Parush/Flash 90
The firestorm that erupted this week involving actor and comedian Gavri Banai is coming to an end, or at least it appears to be following a conversation between Banai and Arutz Sheva's editor-in-chief Uzi Baruch.
The saga began when Banai expressed in conversations with a number of media outlets his anger and criticism at Arutz Sheva for publishing information according to which he was to take part in an event in which testimonies of terrorists imprisoned in Israeli prisons will be read. The saga reached its climax with the conversation that radio host Sharon Gal held with Banai on Galey Israel radio earlier this week, in which he demanded his response to the publication and Banai responded by yelling an obscenity at Gal and hanging up.
Banai, in a statement received by Arutz Sheva and other media outlets, claimed that there was no truth to the claim, and that despite his leftist positions, he had no intention of reading songs written by terrorists. Banai noted the personal hurt he felt following the publication on Arutz Sheva and demanded an apology.
As a result, Arutz Sheva's editor-in-chief Uzi Baruch contacted Banai directly, and the two held a conversation in which it appeared that both sides sorted things out. Baruch, for his part, explained that the source of the reports was official invitations from the Machsom Watch organization and the Tel Aviv Cinematheque to an event in which Banai and actress Sarit Vino Elad were supposed to read testimonies of security prisoners and Israel Security Agency (Shin Bet) interrogees.
"That never happened, it's fake news," declared Banai emphatically. "I may be a leftist, but between that and letters of terrorists...What do I have to do with security prisoners?" Banai wondered how an article was published based solely on the invitations of The Cinematheque and Machsom Watch without asking him personally if there is any truth to the matter.
"It's irresponsible, it's taking a person and ruining his life. They are telling me I have blood on my hands. I have been receiving calls from Israel and abroad," he continued.
Banai explained that when Sharon Gal called him, he thought the call was a prank as he was unaware of the publication and its implications.
Banai also complained to Uzi Baruch of the aggressive tone that has accompanied the Israeli discourse of recent years, and the exchange of accusations between right and left. In his opinion, Prime Minister Binyamin Netanyahu is responsible for this, since he does not criticize and condemn his angry voters who, Banai alleges, beat Arab citizens on the beach.
Baruch, for his part, asked Banai whether he had approached the Cinematheque and Machsom Watch and asked why they would put his name on the invitation and the ad they published for the event in question. Banai replied that his wife is a member of Machsom Watch and that he has known the organization and its activities for 15 years. "A member of the organization called and told me that in mid-December they were doing a day of tolerance or something like that, and asked me to read a letter from one of the members of the organization, a kind of report she wrote after visiting the IDF checkpoints."
"I told her I was prepared to do so, but that before I do, I would like to read the text in question. She said that I would certainly receive the material but that there was still time until December, and that I would get a few texts to choose from. In other words, there is some truth to the story, but between this and security prisoners and Shin Bet interrogees, there is a big gap," stressed Banai.
Banai noted that he and his wife searched for the publication in question and did not find it, and that Machsom Watch claims that they did not publish such an invitation. Arutz Sheva possesses pictures of the invitation in question.
"My name has muddied and I deserve an apology," Banai told Baruch, who replied that the article was based on an official publication by the two organizers of the event, and that if the date of the event and the list of participants has changed, it is a welcomed change. Baruch stressed that he was apologizing on behalf of Arutz Sheva for the hard feelings caused to Banai.