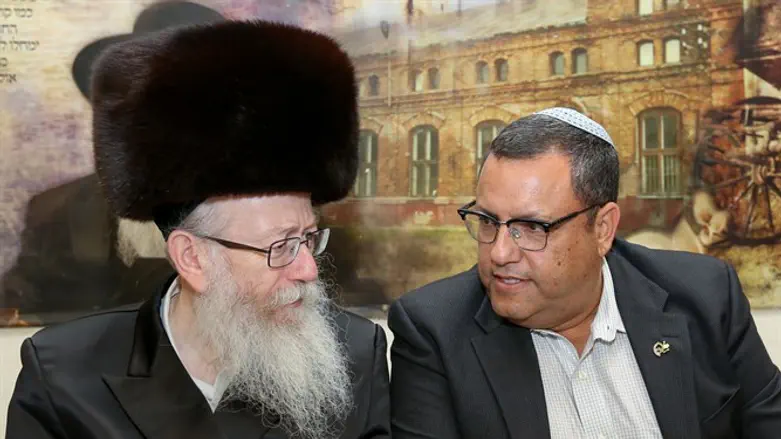 Moshe Leon hosted by Health Minister Yaakov Litzman
Flash 90
Fresh off his victory in Jerusalem's mayoral elections, Jerusalem Mayor Moshe Leon will meet with leaders of the haredi Agudat Yisrael faction in an attempt to convince them to join his coalition.
The hassidic Agudat Yisrael faction had opposed Leon and backed his runoff opponent in the second round of voting. Agudat Yisrael's opposition came despite that fact that the Lithuanian Degel Hatorah and Shas parties had endorsed Leon.
According to the Behadrei Haredim website, Leon will meet with Deitch and other leaders on Thursday evening. As Leon's party does not have any seats on the city council, the newly-crowned mayor needs Agudat Yisrael's support in order to be able to form a coalition.
Leon, who was elected mayor of Jerusalem after a close and tense second round, promised earlier this week that he would cooperate with all the parties and candidates who ran against him, including rival Ofer Berkovitch's 'Hitorerut' party.
Berkovitch lost the mayoralty to Moshe Leon by fewer than 4,000 votes but decided not to appeal the results.
"I know how to put things back and see the good of Jerusalem," Leon told Channel 2. "I intend to sit with Ofer Berkovitch, too. I do not hold a grudge against anyone over acted before the elections."
Agudat Yisrael makes up one of the United Torah Judaism's two separate factions. Degel Hatorah, the other party, was founded in 1988 at the behest of Rabbi Elazar Shach, who had pushed for the establishment of a party dedicated to the needs of the non-hasidic haredi community. Currently, Agudat Yisrael is represented in the Knesset by four of UTJ's six MKs, while Degel has two.
The two separate Ashkenazic-haredi parties first joined together prior to the 1992 elections. The competing factions have not always agreed on policy matters and ran as separate lists in 2004 before reuniting in 2006.