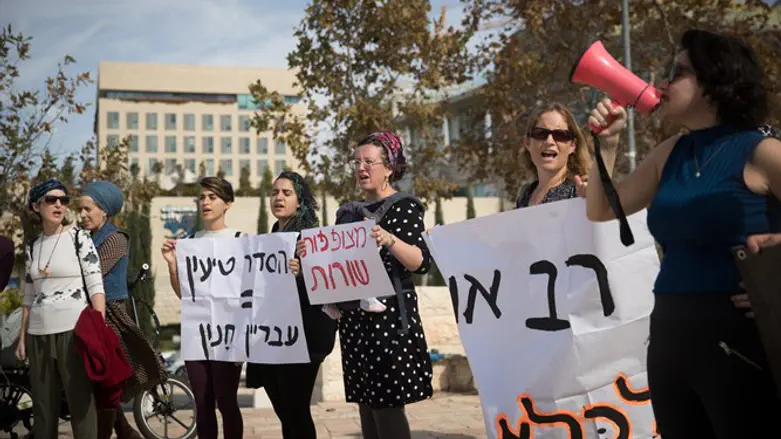 Protesting Sheinberg's appeal, Supreme Court, Jerusalem
Flash 90
Emunah Women Chairwoman Liora Minka organized a demonstration this morning in front of the Supreme Court where an appeal by former Orot Ha'ari Yeshiva head Ezra Sheinberg from Tzfat was heard.
Sheinberg was convicted as part of a plea bargain for sexually assaulting eight women and sentenced to seven-and-a-half years in prison. He appealed to the Supreme Court to ease the sentence.
"I think there's no reason to commute the punishment of a convicted rapist," Minka told Arutz Sheva. "I spoke to women who were hurt by him and are terrified that he'll return to Tzfat. They feel he has an influence on them, they also fear his magical abilities as a kabbalist. I think that while the victims pick up the pieces and try to rehabilitate, it's incomprehensible that the rapist would be released."
Minka is aware that Sheinberg is also scheduled to be released in another two years after a third was reduced for good behavior, but believes it important to convey the message that a rapist should receive no relief. "You must understand that all the victims and their families are constantly supported by the social services and professional services. Time has great meaning here.
"Beyond this, there's a difficult message for the victims if there's a shortening of the sentence. Already after the plea bargain he got a lower sentence, so to come today and shorten it is like telling the complainants that it's not so terrible what happened to them.
"He actually didn't express remorse but admitted the offenses attributed to him in the plea bargain, he admitted the serious crimes to the point of raping women who came to receive help from him, and it was a terrible crisis that the Tzfat community underwent," Minka adds.
She notes that "Rabbi Shmuel Eliyahu and other rabbis are also trying to help the community, whose very existence has been undermined by the incident. I have no doubt that even after he's released the community will continue to denounce him, even though to this day there are still people who think he's a kabbalist and continue to consult him from prison. This is a phenomenon that we unfortunately know from other convictions, as in the case of Berland and others, who ultimately succeed in imposing their authority on the communities later on."