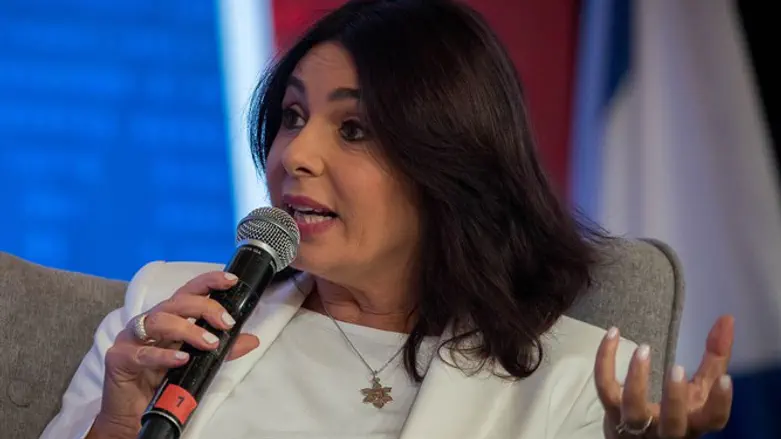 Miri Regev
Flash 90
The Knesset Education Committee on Tuesday approved a second and third reading of the 'Cultural Loyalty Law' which was promoted by Culture Minister Miri Regev.
The bill will be brought for a vote in the Knesset plenum next Monday. It would allow government budgets to be revoked from cultural institutions that deny Israel's existence as a Jewish and democratic state, incite to racism, violence and terrorism.
MK Ofer Shelah, chairman of the Yesh Atid faction, was furious at the Education Committee's approval of the bill and claimed that "behind the Cultural Loyalty Law there is nothing but a personal whim and the considerations of primaries by Culture Minister Miri Regev."
"I know that there are a lot of people in the coalition who oppose it, and we intend to use all the cracks in the coalition to try to bring him down by a vote in the plenum - as we did yesterday to other laws," promised Shelah.
Members of the Zionist Union party invited coalition members to bring sleeping bags as the discussions were expected to last hours.
MK Yossi Yona, who led the struggle against the law on behalf of the Zionist Union. "The Cultural Loyalty Law" is a populist law designed solely to serve the goals of Minister Regev's political primaries, while seriously undermining the principle of democracy and the freedom of creativity and expression of Israeli artists. This faltering government no longer has the mandate to pass such despicable laws."
Culture Minister Regev welcomed the committee's decision: "I am pleased that after a series of meetings and deep discussions in the Education Committee, which included many elements from the world of culture and creativity and the legal age, as well as Knesset members from all the factions in the Kneset, the Cultural Loyalty Law was approved for second and third reading."
"The law that will be approved in the Knesset plenum will for the first time in a proper manner differentiate between freedom of expression and creativity and the right to criticize and the state's right to prevent support for organizations undermining its values ​​and symbols."