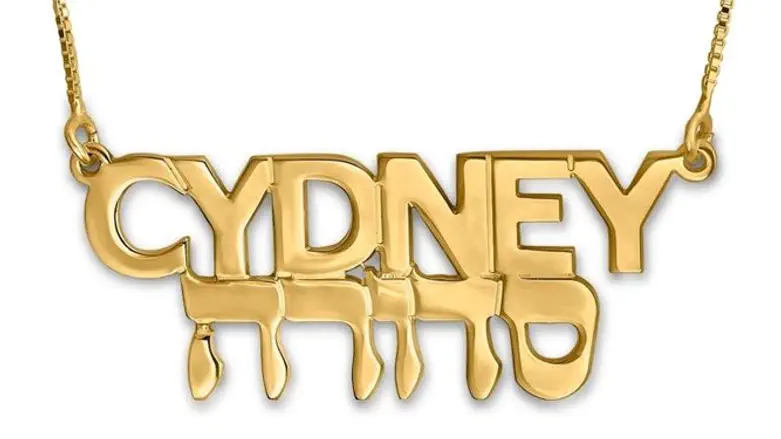 24K Gold Plated Silver Name Necklace in English & Hebrew - (AllCaps & Rounded He
JWS
This year, around the same time Jewish folks starting to shop for Hanukkah menorahs, the holiday season in America is on full blast. This means ugly sweaters, Christmas trees and cheerful music about Rudolf the Red Nosed Reindeer permeating daily life for American Jews. While it might be the "most wonderful time of the year," the amount of time spent partaking in Christmas celebrations is a growing concern among grandparents and parents of Jewish millennials. Jewish millennials are known to be less interested in religion and all the kitschy Christmas traditions that take over the streets and radio seem fun and appealing if you don't think about it too much.
Are ugly Hanukkah sweaters and the Hanukkah bush concerning? Are these "fun" activities in fact causing our Jewish millennials to assimilate into Christian society without even realizing?
A Hanukkah bush is a blue Christmas tree and a Hanukkah sweater is a Jewish version of the "Christmas sweater." All these small things might be a joke at first but when does it become real? This Hanukkah consider giving a Jewish gift from Israel to the millennials in your life. A cool Jewish gift can help re-inspire them to take appreciation in their roots.
Jewish gifts can be something connecting to Judaism or Israel. One of the most popular jewelry items in Israel is the name necklace. Almost every girl has one, either in English or in Hebrew. Name necklaces are a timeless one-of-a-kind style for each person. Dozens of different scripts and styles, with or without charms and birthstones, any name looks good on a name necklace. You can also put a spin on the classic look by choosing a Hebrew name necklace for your millennial. Either way you choose, a personalized piece of jewelry will always be enjoyed time after time.
24K Gold Plated Silver Name Necklace in English & Hebrew - (AllCaps & Rounded Hebrew Type)
Judaica Web Store
Millennials are living in their own spaces now being that they are in their 20s and 30s which also makes Jewish home decor something they might really appreciate. From caring only about themselves to now caring about the condition of their coffee table, a cute set of coasters featuring modern Jewish leaders might a fantastic addition to the perfect gift. Pop art coasters of Golda Meir, Ben Gurion and Herzl will make them smile or those with pictures of falafel will basically make them drool and remind them Israel has its own hip style. With long beards in style, the iconic image of Herzl takes on a new level of style whether it's on coasters or t-shirts.
Ofek Wertman Pop Art Historical Figures Set of 5 coasters
Judaica Web Store
Portrait T-Shirt - Theodore Herzl. Variety of Colors
Judaica Web Store
Hanukkah menorahs are the centerpiece of Hanukkah as it's impossible to celebrate without one. While a Hanukkah menorah passed down throughout the generations is meaningful, millennials are all about the "me." Millennials love traveling and seeing the world for themselves which is why a travel Hanukkah menorah is the perfect gift to give. If they plan on taking off over Hanukkah to travel, they will still be able to partake in the ancient tradition of lighting the Hanukkah candles. These tiny Hanukkah menorahs are also perfect for those who prefer to own something compact rather than a great big menorah.
Laura Cowan Magnetic Box Travel Hanukkah Menorah
Judaica Web Store
Jewish identity is something that generally sticks with people no matter where they stand religiously, and the small things can make all the difference to them. Giving cool, modern and fun Jewish gifts and will go a long way. While many millennials will appreciate a mezuzah, Shabbat candlesticks, and Judaica it's hard to "compete" with the sensory overload in America during Christmas time. Hanukkah is a time to celebrate the eight-day miracle with family so hopefully your millennial will leave the Hanukkah bush and "holiday" sweater at home and bring with them a smile and a desire for some fresh latkes and countless games of dreidel. Happy Hanukkah to celebrants of all ages!