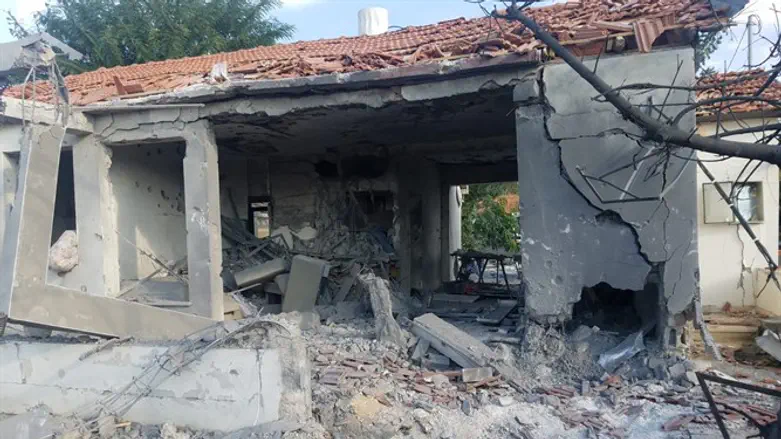 home struck by Gaza rocket
Chabad youth
During a Chabad emissary's visit to a house that suffered a direct hit in Ashkelon, one of the family members revealed that his life was saved because he fulfilled the commandment to honor one's parents.
Chabad emissaries in Ashkelon have provided material and spiritual assistance to the wounded and injured in Ashkelon over the last two days when Hamas terrorists fired almost 500 rockets and mortars at southern Israel from the Gaza Strip. They are accompanied by the emissary Rabbi Menachem Kutner, who is working with the victims of terror on behalf of the Chabad youth.
The members of the delegation visited the wounded patients in the hospital, encouraged them and gave them copies of the Book of Psalms.
Later on, the members of the delegation visited the residents whose homes had been hit by the barrage of rockets and invited them to put on Tefilin and read Psalms. During the visit, the members of the delegation heard first-hand testimonies about the difficult experiences the residents face after the loss or severe damage to their homes.
"כיבוד הורים הציל את חיי"
צעירי חב"ד
"At Barzilai Hospital, we met injured people alongside people suffering from anxiety," said Rabbi Kutner. "We gave everyone spiritual assistance and gifts from Chabad to encourage and strengthen their spirit. One of the visits that particularly touched me was in a house that was directly hit. I sat with the family and strengthened their spirits and even took the mezuzahs for inspection."
"One of the sons told me excitedly that his life had been saved because of the mitzvah of honoring one's parents. He lived in a small housing unit in the yard of his parents' home and when he heard the alarm, he thought of continuing his routine and not going into a protected room as he had done all these years. This time he remembered that his mother was alone in the house and so, as not to leave her alone during the alarm, he ran to his parents' house and went into a secure room with her. At that very moment, a rocket had penetrated directly into his housing unit, where he'd been a few seconds earlier. And thanks to the mitzvah of honoring parents, his life was saved. Excitedly, we read together the verse from the Ten Commandments: "Honor your father and your mother in order to prolong your days.""