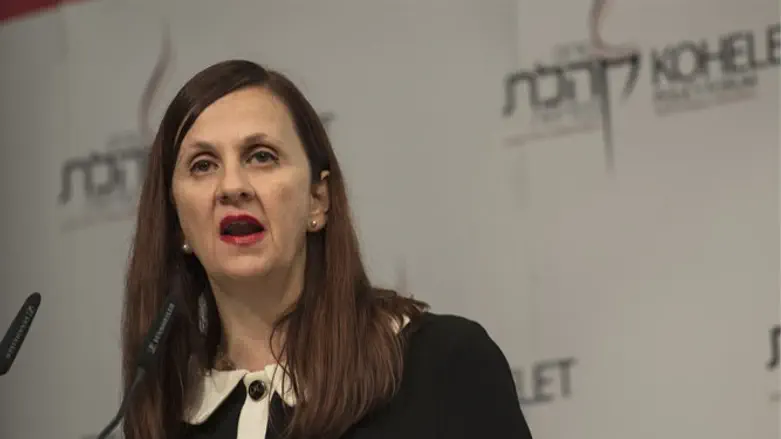 Dina Zilber
Kohelet Forum public relations
Attorney General Dr. Avichai Mandelblit met with Deputy Attorney General Dina Zilber before the Knesset Education Committee debated the law known as the "Cultural Loyalty Bill," Army Radio reported this morning, Sunday.

According to the report, Mandelblit asked Zilber to stick to what was agreed upon concerning what would be said about the bill, which is a government bill. The Justice Ministry chose not to comment or deny the report.
As will be remembered, Zilber chose to deviate from the legal and constitutional issues and made a political speech that aroused the wrath of Justice Minister Shaked and many political officials.

Among other things, Zilber said, "The face of the country has changed. These days are not simple, and they bring with them not only new laws, but also new words: governance, loyalty, overriding. A confrontational discourse that wounds the common social fabric, labels and tags - who is for us and who is against us."
"And if there is someone who is loyal, then is there someone else who is a traitor? A fifth column? Bring us obedient legal advisers, castrated artists, a restrained media, a disciplined, educated nation whose thought is uniform," she added.
Following the speech and things that Zilber had said the day before in a discussion on the legal advisers bill, Justice Minister Shaked sent a letter to the Attorney General demanding that Zilber be prevented from appearing on the various Knesset committees.