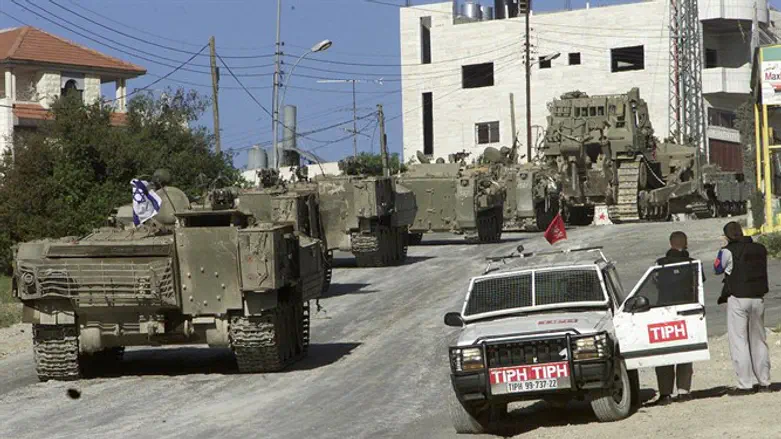 TIPH follow Israeli troop movements, Hevron
Reuters
The Knesset's Land of Israel caucus sent a letter to all of Israel's ministers demanding that the international monitoring organization 'TIPH' be removed from Hevron.
The Temporary International Presence in Hebron, or TIPH, is a group of European civilian observers who have operated in Hevron since 1994. Comprised of representatives from Norway, Italy, Denmark, Sweden, Switzerland and Turkey, TIPH says that it "monitors the situation in Hebron and records breaches of international humanitarian law".
In the letter, the members of the lobby noted that it was the Israeli government that brought the TIP observers to Hebron, and therefore the government must make the decision to remove them.
"Almost 22 years have passed and the monitors are revealed as one-sided in the full sense of the word, causing damage to IDF soldiers, Jewish residents, and the State of Israel," read the letter.
"While the Jewish community in Hebron has experienced thousands of terrorist attacks, the international observers have been careful to keep, monitor and report only on the distress of the Palestinians in the city," continued the missive.
"Unlike their mandate, they hold anti-Israeli information tours in the city, various diplomatic representatives, and joint activities with BDS organizations and activists from Israel and abroad. They regularly harass the residents and the Jews in the city, and their children and were caught on camera recently committing two serious incidents."
The lawmakers were referring to an incident back in July in which a TIPH member who took part in a tour of the Breaking the Silence organization in Tel Rumeida in Hevron slapped a 10-year-old Jewish boy. The member was arrested and forced to leave Israel by the Foreign Ministry.
A few weeks later, Netanyahu ordered the TIPH commander to be summoned for clarification by the Foreign Ministry following publication of footage on Arutz Sheva in which foreign observers are seen puncturing the tires of a car belonging to Jewish Hevron resident of Elad Fass.
The letter comes amid growing political support to remove TIPH from Hevron. Earlier this month, Deputy Foreign Minister Tzipi Hotovely (Likud) accused TIPH of "libeling Israel' and said she would pressure Prime Minister Netanyahu to end the group's mandate.
This body has one contribution, which is to libel Israel around the world," alleged Hotovely. "They are briefing delegations that come to the region from abroad and give a distorted picture of Israel. I turned to the prime minister and recommended that we not renew their mandate in Hevron. The time has come for this temporary organization to finish its job."