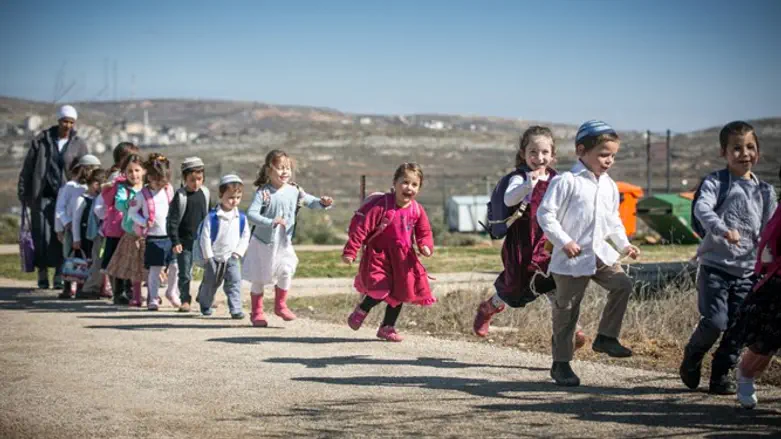 Kindergarten Children in a Twn in Samaria
Mateh Maavak Amona/Gidi Sharon
With the second and third reading of the law, The Knesset today (Monday) approved giving courts the authority to mandate the distancing of suspected pedophiles from work environments with children.
The distancing will include the education system as well as any other sensitive institution such as kindergarten, children's busing, parks and others.
The law was sponsored by Knesset members David Bitan (Likud), Aliza Lavie (Yesh Atid), and Mickey Rosenthal (Machane HaTzioni). MK Bitan stated "the law is so needed, it surprised me that until today, no one had closed the gap in the law. The security of children is a matter of first priority and I hope that the establishment of this law will constitute the placing a formidable barrier between sex offenders and our children".
MK Lavie remarked "No more excuses. The law that we legislated clarifies in no uncertain terms: a suspected sex offender will not work with minors and will not receive a letter of good conduct. We are obligated to protect our children and it is incumbent upon the police to oversee the information that exists in it's system regarding sex offenders. This is life-saving information and of utmost importance. It's crucial that the police pass it on to the relevant factors and institutions.
"We're dealing with the closing of a serious breach of the safety wall around our children. It's hard to believe but, until today, the legal system allowed a suspect who had yet to be found guilty of pedophilia to continue to work with children. This is the lacuna that allowed for a series of serious oversights, among them the horrible case last year of the suspected pedophile that was employed by a school in spite of the suspicions against him and continued to harm children."
Gavel (illustration)
iStock