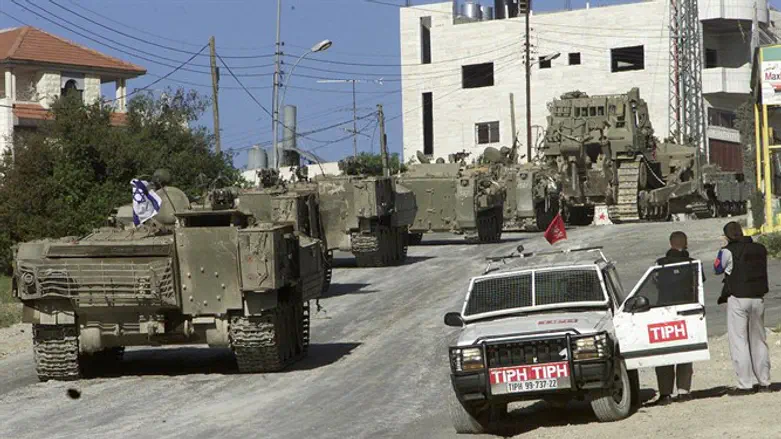 TIPH follow Israeli troop movements, Hevron
Reuters
The Knesset Subcommittee on Judea and Samaria Affairs of the Foreign Affairs and Defense Committee held a discussion on the Temporary International Observers in Hebron (TIPH) organization on the initiative of MK Moti Yogev (Jewish Home). TIPH has come under fire for actions taken by its members against the Jewish community of Hevron, including an incident where a foreign national struck a Jewish child.
The representatives of the Foreign Ministry and the Prime Minister's Office, who are authorized to provide answers regarding the mandate given to the force, did not attend the discussion.
Hevron District Commander Chen Morris told the committee: "In the past two years, I have observed exceptional incidents involving members of the organization. The first occurred on 16 July 2017. An observer [from the organization] punctures vehicle tires. He was not interrogated, but sent back to his country. In another incident, fresh from last summer, an attack by an organization observer against a boy from the settlement occurred. He wore a uniform, signed up for a Breaking the Silence tour and was filmed striking [a child]. He was not interrogated and returned to his country on Saturday night, on July 18, 2018."
"There are other incidents, there is almost daily friction between the TIPH and the [Jewish] settlement [in Hevron], in one way or another," he added.
Acting Director General of the Yesha Council, Yigal Dilmuni, presented a study by the Yesha Council, in which many cases were raised in which TIPH members harmed Israeli residents, soldiers and Israel's image in the world: "The residents of the Jewish community in Hevron benefit 1,000 times more peace and tranquility than this organization, which only provokes and causes friction, as the police chief presented here. It's time to remove TIPH."
Members of the Knesset who attended the meeting, including MKs Yehuda Glik and Oren Hazan (Likud), demanded to know who was responsible for providing answers regarding the mandate.
MK Moti Yogev (Jewish Home) summed up the discussion and said, "It is inconceivable that the State of Israel will fight organizations like B'Tselem and Breaking the Silence with one hand - and in the other it will renew the mandate of the TIPH every year. Like B'Tselem and Breaking the Silence, the TIPH is working to find the Jews' guilt in the harsh reality of Hevron and to spread this message around the world."