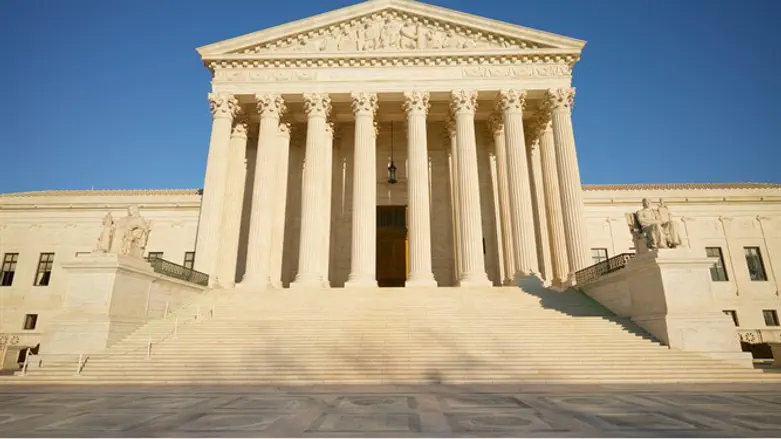 US Supreme Court
iStock
A US-based rabbinic group alleges that the Anti Defamation League (ADL) is acting "contrary to Jewish values" after it urged the US government to reject a Christian foster agency's right to choose parents based on their religion.
The agency in question, South Carolina-based Miracle Hill Ministries, had turned away non-Christian applicants for fostering children. The Department of Health and Human Service is currently debating a waiver request from South Carolina that would exempt it from regulations preventing federally funded foster agencies from discriminating based on religion.
The ADL's opposition to the waiver angered the Center for Jewish Values(CJV), a large US-based public policy organization, which said that rejecting the waiver would infringe on the religious freedoms long enjoyed by Jews.
"Contrary to what has been said, no one is denied the ability to provide foster services because Miracle Hill Ministries is among the agencies licensed to operate," said CJV President Rabbi Pesach Lerner.
"Any individual or family can turn to numerous other providers, including the state itself. So the loss of Miracle Hill's license would only result in fewer children served, and a lack of religious support for families who share Miracle Hill's beliefs. No one would gain, and many would lose -- most of all the hundreds of children currently served through Miracle Hill."
"The current regulations, dating to early 2017, deem religiously-motivated work with coreligionists to be equivalent to discrimination against others," Rabbi Lerner added. "This is incorrect, and we hope that the Trump Administration will reverse these ill-advised regulatory changes."
The CJV also contended that although there are no Jewish foster care agencies in South Carolina, the current regulations threaten the ability of Jewish agencies elsewhere to work with coreligionists.
"Our Torah is replete with references to the need to educate the next generation," said CJV's East Coast Regional Vice President Rabbi Steven Pruzansky "and thus teaches that a Jewish child must be provided a Jewish education and a Jewish home. That a religious organization is able to work uniquely with co-religionists is a key freedom that Americans of all faiths, and especially American Jews, should seek to preserve."
The ADL had urged the U.S. Department of Health and Human Services to deny the waiver request in a letter Tuesday to Roger Severino, the director of the department's Office for Civil Rights.
In March, South Carolina Gov. Henry McMaster asked for his state to be exempted from regulations that prevent federally funded foster agencies to discriminate based on religion. The waiver concerns Miracle Hill Ministries, an agency in the state that rejects foster parents who are not Christian, as well as same-sex couples.
The Republican governor also issued an executive order in support of Miracle Hill.