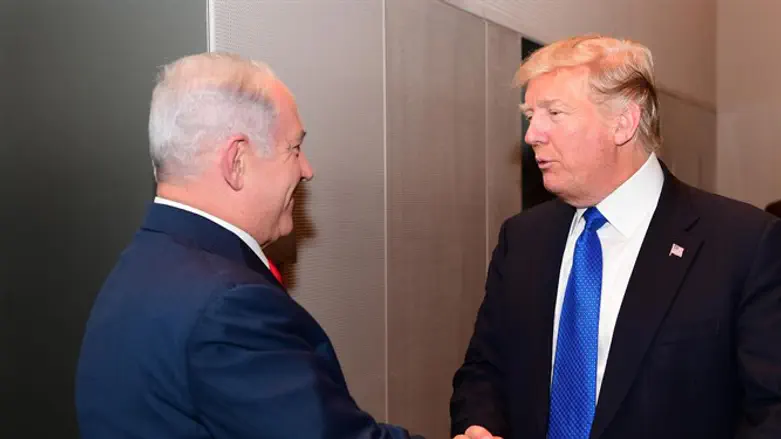 Trump and Netanyahu
Amos Ben Gershom/Flash 90
Deputy Foreign Minister Tzipi Hotovely responded in an interview with Arutz Sheva to reports that US President Donald Trump intends to exert pressure on Prime Minister Binyamin Netanyahu.
"From the first day that this administration came in, we have clarified our red lines regarding negotiations with the Palestinians. I was part of some of these conversations. Settlements is a red line. No Jew will be evacuated from his home. The idea of ​​displacement or withdrawal from the territory will not be repeated. In addition, we are a government that opposes the idea of ​​a Palestinian state. After [Netanyahu's] Bar-Ilan speech and its ramifications, one can say that the Israeli government is united in its opposition to a Palestinian state. This is an idea that endangers the State of Israel," Hotovely said.
"We made it clear to the Americans that any arrangement must include, first of all, the cessation of terror. Abbas' leadership supports terror and extremists drag Abu Mazen into competition with Hamas which will act more against Israel. There is a leadership that is not connected to Gaza and Abbas prevents Gazans from receiving international aid for political reasons. In light of past ideas, the government is working to present the American administration with more appropriate alternatives to the current reality in the Middle East, such as the idea of ​​autonomy," the Deputy Foreign Minister added.
"We will continue to develop Jewish settlement in the areas where we have a 4,000 year-old connection," she said. "The government understands that the two-state plan did not work in reality, and the fact is that that many years have followed the path of the two-state plan that put Jerusalem on the negotiating table, and Trump went in another direction and said that there is a reality that Jerusalem is the capital of Israel and we recognize reality and have begun to touch the core of the conflict that is Jerusalem.
Hotovely was asked about her report on Israeli concerns about a potential American declaration of eastern Jerusalem as a Palestinian capital. "I do not know this and see no reason why Trump will reward the Palestinians for their endless refusal to enter talks and negotiations. They turned their backs on the Americans, why reward them? It is important to remember Trump's moves. He stoped the funds for UNRWA. He said that the Palestinians are financing Terror and offset terrorist funds from American support. I do not see Trump looking to give them presents."