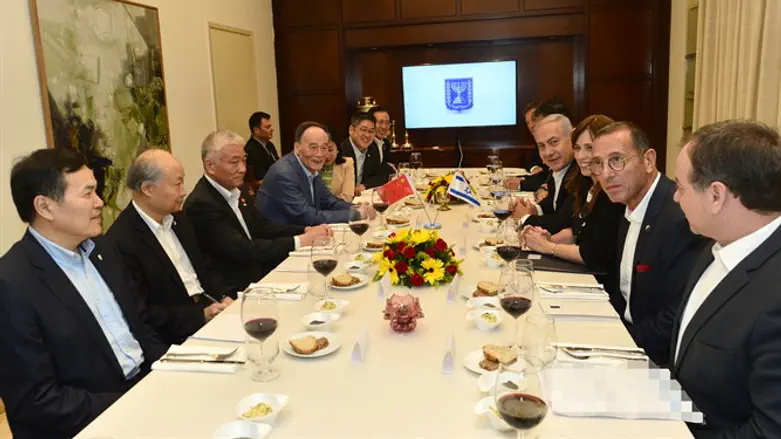 Israeli and Chinese delegations
Kobi Gideon, GPO
Prime Minister Binyamin Netanyahu and his wife Sara on Monday welcomed Chinese Vice President Wang Qishan at the Prime Minister's Residence in Jerusalem, where he signed the guestbook.
"Welcome to Israel. This the most important visit by a Chinese leader in the last 18 years," Netanyahu told the Chinese VP. "It's a sign of our growing friendship. The fact that the Vice President of China came to Israel at my invitation for the Prime Minister's Innovation Conference is a tremendous compliment to Israel and a reflection of the growing ties between China and Israel. And I look forward to our discussions."
Prime Minister Netanyahu and Chinese Vice President Qishan – who is the most senior Chinese official to have visited Israel in the past 18 years – then held a working dinner together with their entourages.
Present for the Israeli side were: Prime Minister Netanyahu, Economy and Industry Minister Eli Cohen, Deputy Foreign Minister Tzipi Hotovely, National Security Council Director Meir Ben-Shabbat, Prime Minister's Office Acting Director General and head of the Prime Minister's staff Yoav Horowitz, National Economic Council Chairman Avi Simhon, Israeli Ambassador to China Zvi Hefetz and other senior officials.
Present for the Chinese side were: Vice President Qishan, Science and Technology Minister Wang Zhigang, Vice Minister of Foreign Affairs Le Yucheng, Vice Minister of Commerce Qian Keming, Chinese Ambassador to Israel Zhan Yongxin and other senior officials.
Chinese Vice President Qishan arrived in Israel earlier today with a delegation of minister and deputy ministers from approximately 13 ministries for an official visit at the invitation of Prime Minister Netanyahu.
The Prime Minister and the Chinese Vice President will chair the fourth meeting of the Israel-China Innovation Conference in a G2G format at the Foreign Ministry on Wednesday, 24 October. Eight joint agreements are due to be signed at the conference in science and technology, life sciences, innovation, digital health and agriculture. The Prime Minister and the Chinese Vice President will sign the conference's new multi-year plan. The innovation conference meets annually alternatively in Jerusalem and Beijing and – inter alia – advances cooperation between government officials from Israel and China, joint projects involving the private sector, joint research in science and industry, and grants scholarships for Israeli and Chinese students.
The Chinese Vice President will also be the Prime Minister's guest of honor at the Prime Minister's Innovation Conference. The two will also dedicate the Peres Center for Peace and Innovation.