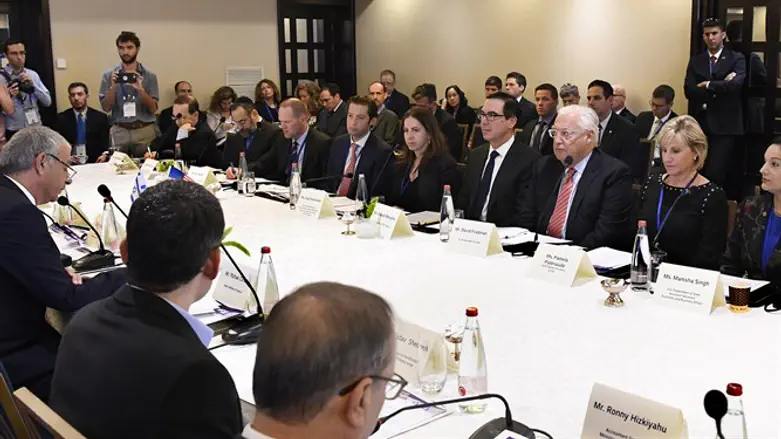 JEDG discussions
Matty Stern/U.S. Embassy Jerusalem
Delegations from Israel and the United States held important and in-depth discussions on October 22 in Jerusalem during the annual meeting of the U.S.-Israel Joint Economic Development Group (JEDG).
U.S. Secretary of the Treasury Steven Mnuchin and Israeli Minister of Finance Moshe Kahlon opened the meeting by affirming the strong and enduring ties between the U.S. and Israeli economies and their respective governments.
The Israeli delegation was headed by Shai Babad, the Director General of Israel's Ministry of Finance, and included Udi Adiri, Director General of the Ministry of Energy; Ami Apelbaum of the Israeli Innovation Authority; Zeev Bielski Head of Israeli Housing Administration; Ronny Hizkiyaho, Israel's Accountant General; and Galit Cohen, Senior Deputy Director General at the Israeli Ministry of Environmental Protection; among many other distinguished officials.
The U.S. delegation included U.S Ambassador to Israel David Friedman; Pamela Hughes Patenaude, Deputy Secretary of the U.S. Department of Housing and Urban Development; Sigal Mandelker, Under Secretary of the Treasury for Terrorism and Financial Intelligence; and Manisha Singh, Assistant Secretary of State for Economic and Business Affairs, among many other distinguished officials.
The two delegations noted that the U.S. and Israeli economies are intertwined and that cooperation deepening across a range of sectors continues to grow. The U.S. delegation commended Israel's strong economic performance. The Israeli delegation expressed its appreciation for the longstanding partnership between the two governments. The delegations reaffirmed their commitment to monitor economic progress and cooperation.
Among other accomplishments, the delegations established a task force that will work in the coming year to seek to update the Israel-U.S. Tax Treaty. The task force will report on its progress to the JEDG that will meet in 2019. The delegations also signed a Memorandum of Cooperation establishing information sharing and cooperation in the field of housing and community development. The housing discussion concentrated on affordable housing and urban revitalization. The two sides also exchanged a Memorandum of Understanding on cooperation in environmental matters such as waste management, soil remediation, emergency response and decontamination approaches, air quality, and water quality improvements.