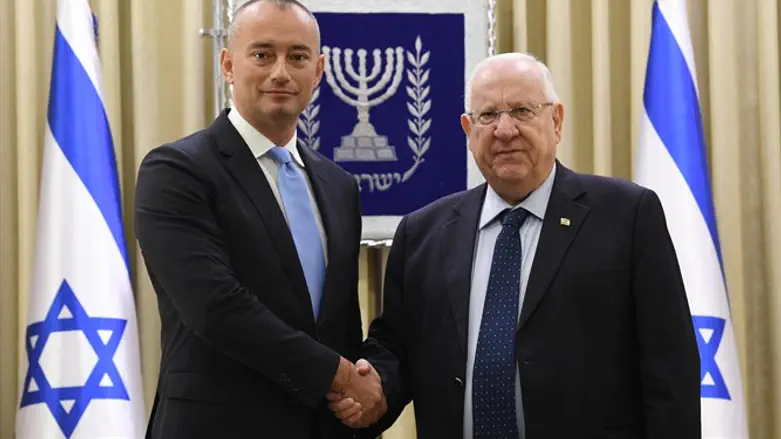 President Rivlin with Mladenov
Mark Neyman (GPO)
Israeli President Reuven Rivlin on Wednesday met United Nations (UN) Special Coordinator for the Middle East Peace Process Nickolay Mladenov to discuss regional diplomatic and security issues.
Rivlin welcomed Mladenov and commented on the rockets fired by Gaza on Israel's south.
"Last night, missiles were fired on us from Gaza," Rivlin said. "Only the quick response of a mother saved the lives of her children. Men, women and children all spent the night in shelters. Israel will not stand by while our people are under attack, and the world must know that."
"As long as Gaza is controlled by Hamas it is responsible for every attack on Israel."
Rivlin also pointed out that Hamas' reign of terror affects Gazans as well as Israelis.
"Hamas continues to hold the people of Gaza hostage, bringing them destruction and suffering," he said. "So long as the missiles and the provocation continue on, there is no chance of easing the suffering of the people of Gaza."
Mladenov responded, "Thank you very much, Mr President, for this important meeting. I look forward to briefing you on our efforts. I am afraid that the last 24 hours have been particularly complicated. The latest rockets that were fired from Gaza towards Be'er Sheva are a dangerous escalation of the situation."
"Unfortunately, they fit a pattern of provocations that seek to bring Israel and Gaza into another deadly conflict and confrontation."
Emphasizing that "It is our responsibility to do everything possible to avoid that confrontation," Mladenov delineated three goals.
The first goal, he said, is "to avoid a war which would be devastating for the people of Gaza and for the Israelis who live across the border."
"Secondly, to alleviate the humanitarian suffering of the people who live in really terrible conditions. And thirdly, to support our joint efforts with Egypt to bring the legitimate Palestinian Authority back into control of Gaza."
Mladenov also admitted that "there is no more time for words."
"Now is the time for actions," he said.
However, he demanded "very clear actions on all sides that bring the situation to a de-escalation," despite the fact that the rocket attacks were completely unprovoked.
"Otherwise, the consequences will be terrible for everyone," Mladenov warned. "I look forward to discussing with you what can be done in order to de-escalate this environment and to move forward in a constructive manner."
Picture credit:
Video has been uploaded to the GPO's FTP server. Credits: video – Avi Kaner, sound - Uri Buzaglo
Further details: Jonathan Cummings, Foreign Media Advisor, 054-4707709