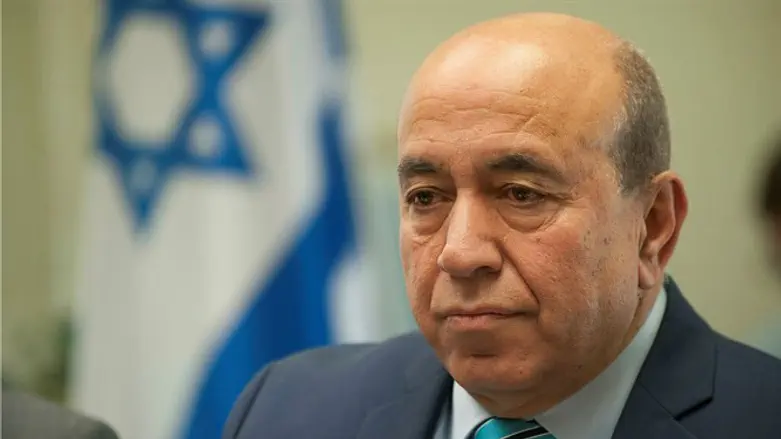 Zouheir Bahloul
Yoav Dudkevich/TPS
MK Zouheir Bahloul (Zionist Union) on Tuesday submitted a letter of resignation from the Knesset to Knesset Speaker Yuli Edelstein.
Bahloul will be replaced by Moshe Mizrahi, who previously served as an MK on behalf of the Labor party between 2013 and 2015.
Bahloul announced in July that he would be resigning from the Knesset following the summer break in protest of the Nationality Law, which declares Israel to be the Jewish people's nation state.
In a television interview at the time, he said, "The Nationality Law removes the Arab population from equality, via legislation. I will need to provide answers to my grandson, who will ask if I was in the Knesset when this law was passed. Now I can tell him that I did not, I resigned in the face of the toughest laws that should have brought the Israeli public out into the streets."
"The State of Israel was founded, and it succeeds and prospers, and at the end of the day all it does is deal with the ostracized Arab population. It is inconceivable that I will accept the new conditions, which define the country anew as a country with symptoms of apartheid," charged Bahloul.
The Nationality Law, which was approved by the Knesset several months ago, states that Israel is the Jewish people's nation state and establishes as law Israel's flag, symbols, the Hebrew language, and various other items mentioned in the Declaration of Independence.
The law does not affect the rights of minority citizens in Israel, but has been criticized by Arab countries which claimed that it is discriminatory.
Even before he resigned over the legislation, Bahloul was on the outs with Zionist Union leader Avi Gabbay.
Gabbay heavily criticized Bahloul several months ago and said he did want him to be a part of Labor in the next Knesset. This was after Bahloul announced he will not take part in the special Knesset plenum session marking the 100th anniversary of the publication of the Balfour Declaration.
"I am part of the Zionist Union, but I am not a Zionist myself, and I cannot be a Zionist. As a Palestinian, in the second part of my identity and substance, I deserve at least recognition of my narrative. I do not think I should participate when I am not free," he said at the time.
Bahloul had previously caused an uproar in 2016 when he claimed that an Arab terrorist who stabbed a soldier in Hevron was not a "terrorist".
He later toned down his rhetoric, saying, "It is impossible to attribute such things to me. Are you crazy? The soldiers are victims of the cursed politics under which we live. These may be the children of my neighbors, would I want for their lives to end? All I said was that we must speak in terms that will awaken Israelis from their slumber. There is occupation."