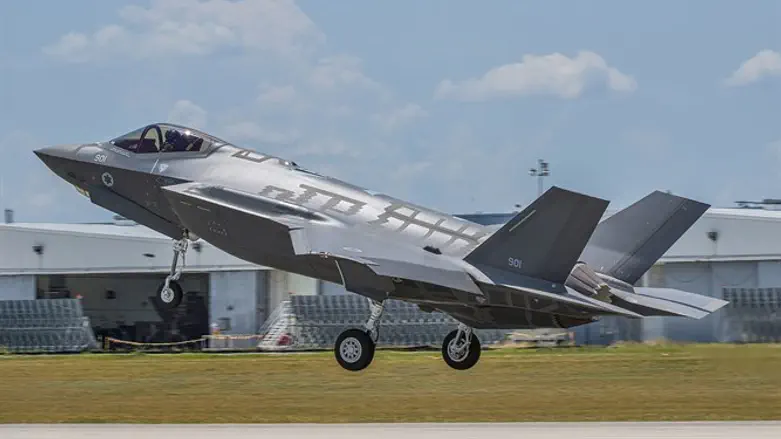 F-35 Lightning II Adir
Lockheed Martin
The Israeli Air Force has returned its squadron of F-35I fighter jets to active duty, days after all F-35 aircraft were grounded, following an accident involving a similar aircraft in the United States Marine Corps.
Last week, the IDF ordered all F-35I aircraft removed from active duty until full examinations of each aircraft were completed.
The decision was made after the US grounded its own F-35s, following the loss of an F-35 operated by the US Marines Corps. A post-crash investigation found that a faulty fuel pipe in the engine caused the crash.
The lost Marine F-35 was a F-35B model of the plane, adapted for use on carriers and smaller amphibious assault ships. The F-35B is capable of takeoffs from short runways, and is capable of executing vertical landings, much like the Harrier aircraft.
Despite the differences, the Israeli Air Force removed all F-35I aircraft from active duty, and coordinated its examinations of the planes with the manufacturers, including Lockheed-Martin and Pratt & Whitney, which produces the engines used in the F-35.
"The Commander of the IAF, Maj. Gen. Amikam Norkin decided that the F-35I aircraft will return to full activity in the IAF after a professional inspection of all aircraft, which was run by the Technical Array of the IAF," the IDF said in a statement Sunday.
"The checkups were done in accordance with the information that was received by the US Joint Program Office (JPO) and the engine manufacturer (Pratt & Whitney), after the accident that occurred in the United States Marine Corps. We emphasize that the accident occurred in the type B aircraft, which the IAF does not possess. Therefore, the IAF F-35I aircraft will be brought back to full regular operational activity."