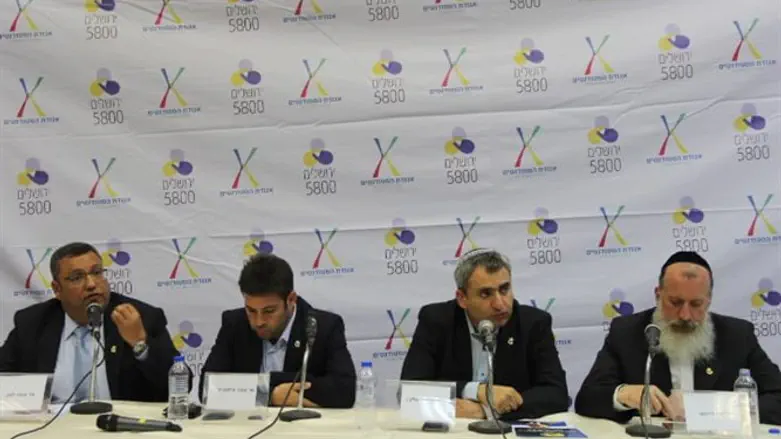 Jerusalem 5800
Lev Binyamin Babioff
What will Jerusalem look like in 2040? The staff of "Jerusalem 5800" convened the four candidates for mayor of Jerusalem Wednesday around one table to answer this question.
Ze'ev Elkin, Yossi Deitch, Ofer Berkowitz and Moshe Leon were faced with important questions concerning the future of Jerusalem at the Lev Academic Center. The questions were asked by Student Union, Gali Israel and Arutz Sheva.
When asked if they wanted to expand the boundaries of Jerusalem and whether an airport should be established in the capital, the candidates responded in a variety of ways.
Jerusalem Affairs Minister Ze'ev Elkin said that "first and foremost, I unequivocally support expanding the boundaries of Greater Jerusalem, and I think that this is one of the ways to achieve a fundamental solution to promote construction in Jerusalem."
"As for the specific issue of the airport, I am familiar with the plan and the vision. The Jerusalem of today does not need an airport, but the Jerusalem of tomorrow that I envision is a city with many more residents,. It would have not 3 million tourists a year, but 30 million. This Jerusalem will certainly need an airport," he added.
On the other hand, candidates Leon and Deitsch only referred in their responses to their short-term vision of Jerusalem's future. Yossi Deitsch wondered, "Do we really think that Jerusalem needs an airport? No. With today's options, when there is a fast train line, when we are 28 minutes from Tel Aviv and the airport and with the possibilities that exist today, I do not see the need for an airport in Jerusalem. I do not think that what we lack today in Jerusalem is an airport."
"Regarding the issue of 5800, we need to strengthen the housing in Jerusalem, we need to strengthen tourism, we will do all these things and we will march Jerusalem forward," Deitsch said.
Moshe Leon expressed unequivocal opposition to the expansion of Jerusalem. "Until Jerusalem stabilizes, I am really against the annexation of additional residents to the city. I I want to deal with the existing borders at the present time, and when we talk about vision and dreams and 5800 it's a long time. Let's deal with the daily problems of having a mayor who takes care of the residents themselves."
Ofer Berkowitz said, "In my plan, I propose to turn Ma'aleh Adumim from Mevasseret and Gush Etzion into Jerusalem-based municipalities, and some of the housing solutions will be around Jerusalem. If we produce electric bus lines, a subway or light rails, we will be able to create a larger metropolis. Tel Aviv is strong because of the number of residents from Gedera to Hadera. If there is a need for an airport in the future, at the moment I do not see such a need, it will be in the areas around Jerusalem."