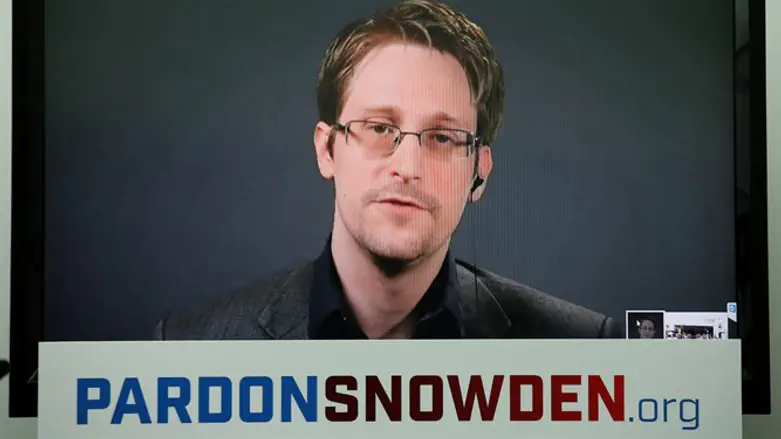 Edward Snowden speaks via video link during news conference in New York
Reuters
Next month, Edward Snowden will speak to Israel. Snowden, who was employed by the CIA and the NSA, entered world awareness in 2013 after revealing reams of classified information showing US intelligence agencies collecting sensitive information on hundreds of millions of people around the world using the computer systems of telecommunications giants, among them Microsoft, Google, and Verizon.
After his exposure, Snowden escaped to a secret place in Russia and has since been designated as one of the most wanted fugitives in the world.
Snowden, who faces over ten years in prison or the death penalty, will speak at a closed event held by the OH! Orenstein Hoshen consulting firm and is expected to address issues related to Israel.
The journalist who exposed the Snowden documents said in the past: "There are definitely stories that are connected to the Middle East and to Israel."
A report said the NSA spied on "high priority Israeli military targets". Other leaked documents suggested that Israel was a "top target" for American spying
Snowden will speak through a secure video system and answer questions from the Israeli audience. He is expected to relate, among other things, to issues specific to the State of Israel. According to Snowden, former Mossad deputy head Ram Ben-Barak, will respond. He headed the Keshet division responsible for obtaining intelligence through electronic means at the Mossad as Intelligence Ministry and Strategic Affairs Ministry director general.
The firm stresses that prior to deciding on the spokesmen's identities, security officials, including the military censor, were consulted.
Edward Snowden being Interviewed from Moscow regarding Donald Trump, Apple, Facebook, Google, & their connection to the NSA; September, 2018: