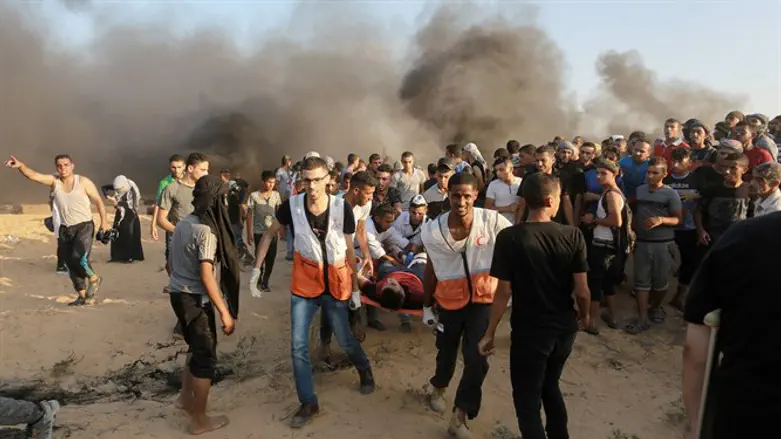 Gaza riots
Abed Rahim Khatib, Flash 90
Military correspondents Tal Lev Ram (Maariv) and Yossi Yehoshua (Yediot Aharonot) spoke in an interview with 103 fm about the security situation near the Gaza security fence and the daily disturbances, warning of an exceptional and severe incident that will develop from the demonstrations, and accusing the IDF Spokesperson of hiding the situation from the public.
Yehoshua claimed that the information was hidden from the public and estimated that this was by order of the higher army ranks. "It is clear that there is concealment here, and the IDF Spokesperson is not reporting incidents of sovereignty violations anymore. There had been a policy of doing so so far. In the preceding period, the IDF allowed reporters to enter the first line of confrontation with the snipers. When the IDF wanted to present the subject to the world and tell the story of the confrontation, it allowed us to enter. Now the army does not allow the entry into the closed military area and we cannot report what is happening. In my opinion, this is a policy of concealment which comes from the higher echelons. I don't have the official order on this, but I notice the spirit of things."
Tal Lev Ram added: "The head of Southern Command believes in this and says it publicly to journalists. I personally took the car at the end of the week and went south, and I can testify that there is almost no international press there. There is only one observation point. In my opinion there is something deeper here. It is not easy for anyone to talk about the Gazan mud, it immediately becomes political. On the military level, an approach has developed that the more we deal with what is happening in Gaza, it will give the enemy's consciousness tailwind to continue the events."
"There are two scenarios that could happen," he added."The first and most serious thing for me as an Israeli citizen is that the Gazans will penetrate the borders of the State of Israel and Israeli civilians and soldiers will be harmed. The second scenario is that in the end there will be 70-80 Palestinians killed along the fence because they did not take the actions that needed to be done. These are events that happen all the time, there are videos in which the Palestinians dismantle the fence, and it is a matter of time before they burst in and run toward Israel. "

On assessments of escalation and another operation in Gaza, he noted, "The worst thing in the world of deterrence is to say one thing and to do another. We cannot say to the public, 'After the holidays we will act,' and then not do it. It's not just a military matter, but a political matter. The one changing the rules of the game is not Israel, but Hamas, and Israel is not carrying out an appropriate policy."