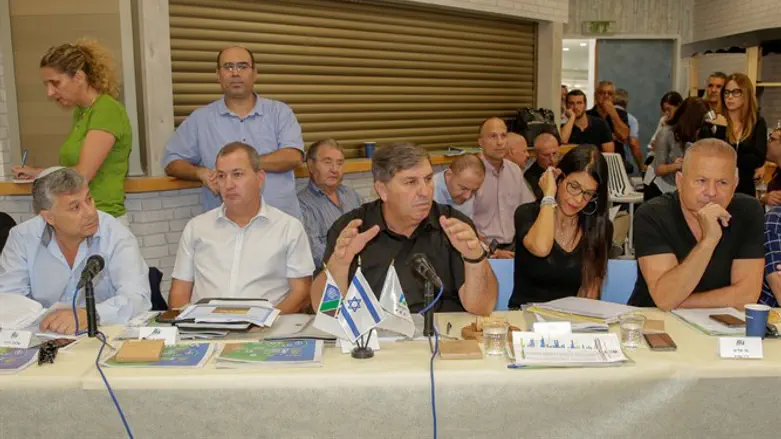 KKL board meets in Sderot
Photo credit: KKL
The Keren Kayemet Leisrael (KKL) Board of Directors held a special session in Sderot and toured the Gaza envelope on Sunday.
The meeting was held in the shadow of the flaming kites and balloons from the Gaza Strip that have devastated the region over the last six months.
During the meeting, the board of directors decided to define the area adjacent to the Gaza Strip as a major KKL aid target and to approve a large-scale, multi-year assistance program to the tune of NIS 66 million over the next two years.
In addition, the KKL Finance Committee will soon in order to discuss a proposal that would grant the region a one-time injection of NIS 38 million.
The decision of the KKL Board of Directors came after a strategic task force established by the communities in the area agreed on a joint initiative that would improve the region.
The increased aid will be used to promote a diverse range of projects, including building bicycle paths, playgrounds, developing existing forests, and developing programs in Sderot.
Despite the fact that the Gaza perimeter is defined as 7 km around the Gaza Strip, KKL-JNF has decided to include in the definition of the "Gaza envelope" all of the communities suffering from terror in recent months, and therefore the assistance will be given to Sderot, Netivot, Eshkol Regional Council, Sdot Negev Regional Council Regional Hof Ashkelon and Shaar Hanegev Regional Council.
"Even in routine times, one of KKL's main goals is to strengthen the periphery with an emphasis on the Negev and the Galilee. These days, in which the residents of the Gaza vicinity face daily terror against kites and other threats, the JNF is even more committed to do everything in its power to strengthen the residents of the area," said KKL Chairman Danial Atar.
The KKL meeting was attended by the heads of the local regional councils, including the head of the Merchavim Regional Council, the head of the Eshkol regional council, the head of the Shaar Hanegev regional council, the head of the Sdot Negev regional council, and the mayor of Sderot.
"The fact that the KKL board has come to visit us is an important statement for the residents of the Gaza vicinity and a historic day for Sderot and the entire Negev region," said Sderot Mayor Alon Davidi.
"Your presence says that you understand the importance of the region not only during wartime, but also in routine times, and is a positive increase in the KKL involvement in the Negev. You understand that the importance of facing terror is a national task - Zionist, not regional. You help us, the heads of the councils, to realize the vision - to settle on the ground, to build another house, to accommodate another family and to absorb thousands of new residents. "