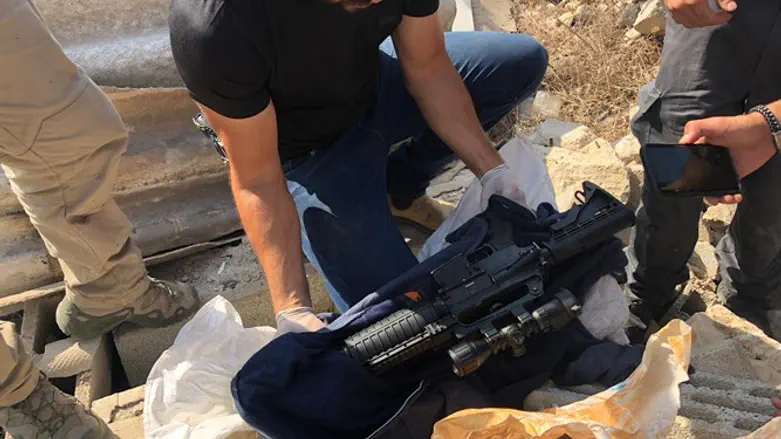 Some of the weapons confiscated
Police Spokesperson
Police conducted a combined operation today, Wednesday, at 12 compounds in the Arab town of Yafia in the Galilee region of northern Israel and found many illegal weapons.

Locations in the operation included a banquet hall, a lot for the sale of vehicles, and private homes. In the raids, M-16 rifles, Carlo rifles, a pistol, documents, cash and checks valued at more than NIS 2 million ($551,000) were seized.

In addition, 300 kilos (660 pounds) of black market meat were confiscated by the forces.

Eight suspects were arrested and taken for questioning at the police station.

Most are suspected of possessing weapons and systematic evasion of income tax and VAT.
On Friday, a Jewish family from Nazareth Illit was nearly lynched by Arabs when their car got stuck in a traffic jam in Yafia.
According to the Honenu legal organization, upon identifying the passengers in the car as Jews, the Arabs began attacking the car with rocks and clubs.
The family members said that one of the assailants began to hit the car with an iron pipe, broke the windows and hit the family members. Some of the family members were injured and were evacuated for medical treatment at the Italian Hospital in Nazareth.
The driver eventually managed to maneuver among the vehicles around him and escape from the village.