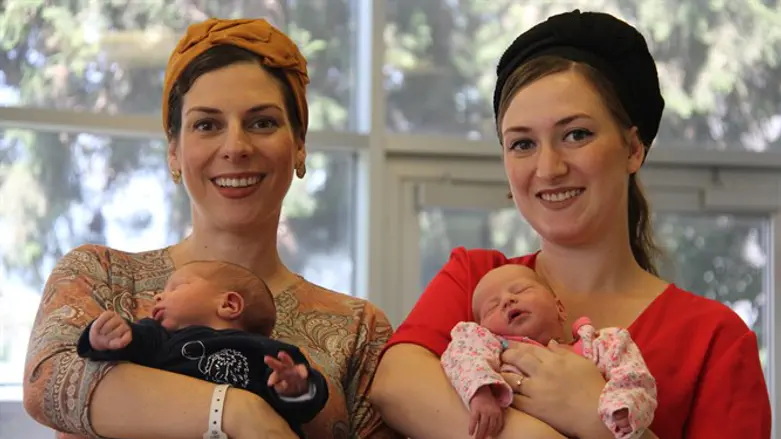 Efrat and Michal with their babies
Hadassah spokesperson
Two sisters gave birth at the same hospital four hours apart.
Efrat Mor, who lives in the southern town of Bnei Dekalim, arrived with her husband at Jerusalem's Hadassah Ein Kerem Hospital for the birth of her fifth child.
"We live far away, but I wanted to give birth in Hadassah," Efrat explained. "They hospitalized me on Thursday for an induction."
To Efrat's surprise, she met her younger sister, Michal Bar-Lev, in the hospital.
Michal, who lives in Mitzpe Yeriho, had been hospitalized after her water broke.
"My due date was only in another week, but my water broke, so I rushed to Hadassah," Michal explained.
Zehuvit, the women's mother, ran between her daughters' bedsides. At 3:00a.m. on Sunday morning, Efrat was taken to the delivery room, and less than an hour later she held her son in her arms. Michal delivered her second child, a daughter, as the sun was rising.
"At about five in the morning, my contractions started getting stronger and they took me to the delivery room," she said. At ten to six, our family grew even more."
Photo credit: Hadassah Ein Kerem
Michal's husband Nerya said, "We were very excited, from the moment we left our house and got into the ambulance. I didn't believe that both births would happen on the same day, or so close to each other, even though the idea had occurred to me. But at the end of the day, it was very nice, and the midwife was just amazing."
Zehuvit and her husband David, who works in Hadassah, have thirteen grandchildren.
She added, "Efrat's birth was very quick, and I missed it. Michal's was also quick, but I was there. The staff was nothing less than amazing, and we've had a terrific experience with fantastic results."