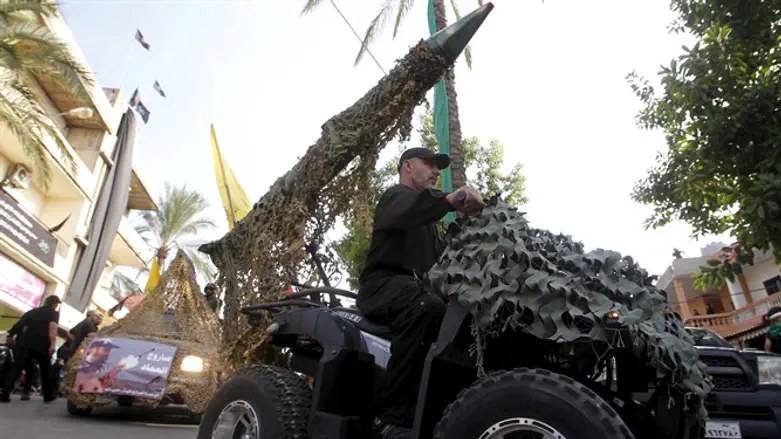 Hezbollah
Reuters
Defense Minister Avigdor Liberman rejected Lebanese attempts to present Prime Minister Netanyahu's speech at the United Nations as a lie and said Israel has more information to reveal about Hezbollah in Lebanon.

"We have more information about the Iranian and Hezbollah missile factories in Lebanon, and we will reveal it later," Liberman said in an interview with Army Radio.
On September 27, Israeli Prime Minister Binyamin Netanyahu said in an address to the UN General Assembly that Hezbollah had secret missile conversion sites near Beirut airport.
He produced satellite imagery pinpointing three sites and accused the powerful Iranian-backed Shiite militia of using Beirut residents as human shields.
"So I also have a message for Hezbollah today: Israel knows, Israel also knows what you're doing. Israel knows where you're doing it. And Israel will not let you get away with it," Netanyahu said last week.
On Monday, Lebanon's Foreign Minister gathered ambassadors near Beirut international airport in a bid to disprove Israeli accusations that Hezbollah had secret missile facilities there.
"Today Lebanon is raising its voice by addressing all countries of the world... to refute Israel's allegations," Gibran Bassil said.
He then took the diplomats and dozens of journalists on a tour of the alleged missile sites, in a bid to refute Israel's claims.
Prime Minister Netanyahu subsequently dismissed what he called the foreign minister's "propaganda tour."
"Hezbollah is brazenly lying to the international community by means of the fraudulent propaganda tour of the Lebanese Foreign Minister who took ambassadors to the soccer field but refrained from taking them to the nearby underground precision missile production facility. The ambassadors should ask themselves why they waited three days before making the tour. Hezbollah always takes care to clean the area at exposed sites.
"It is unfortunate that the Lebanese government is sacrificing the peace of its citizens to cover for Hezbollah which has taken Lebanon hostage for its aggression against Israel," Netanyahu said.