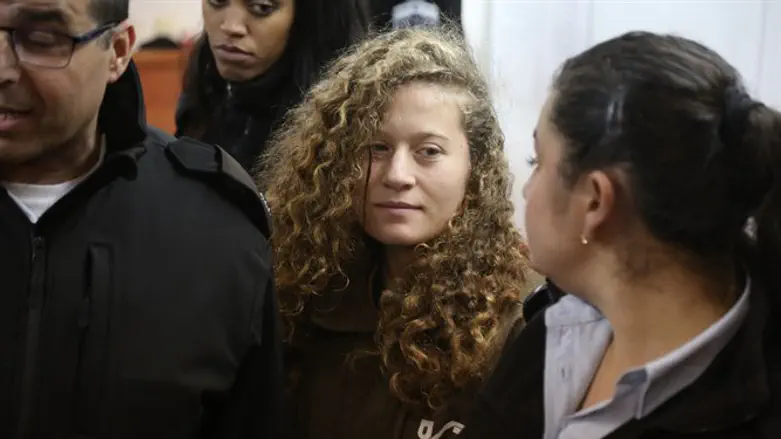 Ahed Tamimi
Flash 90
Ahed Tamimi, the young Arab woman who served a prison sentence for assaulting an IDF officer, was guest of honor at an event that the Communist Party of Spain held in honor of her father.
Tamimi held a tour of several European countries this week aimed at influencing public opinion and enlisting support for political and economic pressure on Israel.
In her speech at the event, Tamimi thanked the organizers for standing by the "Palestinian people", noting that this support strengthens them.
"The occupation is permanently found (and expressed) in the settlements, the checkpoints, the shaheeds, and the 6,000 Palestinian prisoners in Israeli prisons who suffer from interrogations, prison administration, and unjustified courts, medical neglect, and denial of the most basic necessities of life," Tamimi said.
Tamimi argued that unlike the "Jews" who are educated to hate "Palestinians" and portray themselves as "victims," ​​the "Palestinians" do not regard themselves as "victims" and always rebel against the occupation.
"We came from Palestine to fight injustice, colonialism, and capitalism all over the world ... O free people, unite to end the occupation, capitalism, colonialism, and injustice throughout the world," she said, calling on governments to exert pressure on Israel and boycott it.
In a recent interview, Tamimi testified about the conditions she experienced in an Israeli prison in a manner different from the way she presented it at the conference of the Communist Party of Spain. Tamimi said she used the time in prison to study law, prisoners would cook together, party parties, sing, and dance.