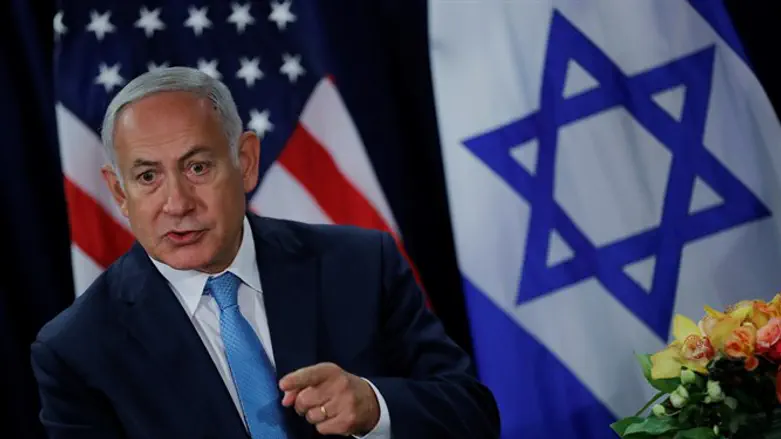 Netanyahu meets with Trump at UN
Reuters
Prime Minister Binyamin Netanyahu is very pleased with his meeting Wednesday with US President Donald Trump on the sidelines of the UN General Assembly in New York.

In a press briefing after the meeting, Netanyahu said, "I heard the United States' unreserved support for Israel, its right to self-defense in general, and also regarding the incident of the downing of the Russian plane in Syria. I made specific requests and got everything I asked for. The president gave explicit instructions regarding Israel's security."
Referring to Trump's support for the establishment of a Palestinian state, Netanyahu said: "We are concerned with essence. The question is, what is a state? What state will it be? Will it be Costa Rica or Iran? As far as I am concerned, as long as I am prime minister, the security control of Israel will be full to the west of the Jordan River."
He added that he heard during his meeting with Trump from his adviser Jared Kushner that everyone interprets the concept of a "Palestinian state" differently.
He was asked why Israel does not initiate an attempt to renew political negotiations. "It is absurd to think that if the Americans are preparing a plan, we will bypass it. Nevertheless, this does not indicate that we have no contacts with the Palestinians."
Netanyahu was asked to address the humanitarian situation in Gaza. "Two sinkholes have been created: On the one hand, the economic situation in Gaza and in the Palestinian Authority is very difficult because the Americans have stopped their financial aid to UNRWA and other projects. On the other hand, the Palestinian Authority does not transfer the funds and salaries to Gaza. "

"I am not indifferent to the situation and our position is not that there is nothing to be done. We are talking about it both with Abbas and with the Egyptians," declared the prime minister.
A political source in Netanyahu's entourage also responded to reports that President Putin rejected the Prime Minister's request to meet with him following the incident of the downing of the Russian plane. "The issue was raised during the prime minister's conversation with the Russian president, and he did not reject any possibility, but rather left it open. At the moment the atmosphere in Russia is not suitable for such a meeting, but it can be assumed that a meeting with the Russian president will take place soon," he said.