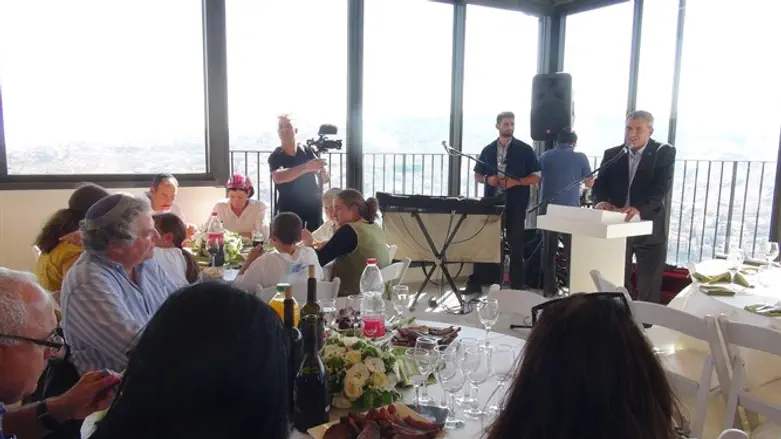 Elkin in Kedmat Tzion
Hezki
Jerusalem Affairs Minister Ze'ev Elkin, a candidate for Mayor of Jerusalem, participated in Sukkot celebrations in the Kedmat Tzion neighborhood of eastern Jerusalem Tuesday.
Elkin told the residents: "We will build 400 housing units in the Kedmat Tzion neighborhood. There will be a neighborhood of at least 400 housing units. At the end of the first plan, there will be Jewish settlement here."
Elkin said to Arutz Sheva: "The time has come for a Jewish neighborhood to be established here. This is Jewish land that was purchased by Jews for this Jewish settlement within Jerusalem and the sooner the better.
Will you succeed where Barkat failed? "I believe so. As with many other places, I contributed my modest contribution to promoting Jewish settlement in Jerusalem, and I believe that an important Jewish neighborhood that will be part of Jerusalem will be built here. In the end, when you look at everything around us, this is unified Jerusalem and the Jews have the right to settle everywhere. That's what we've done to this day and we'll continue to do so."
אלקין: נבנה 400 יחידות דיור בשכונת קדמת ציון במזרח ירושלים