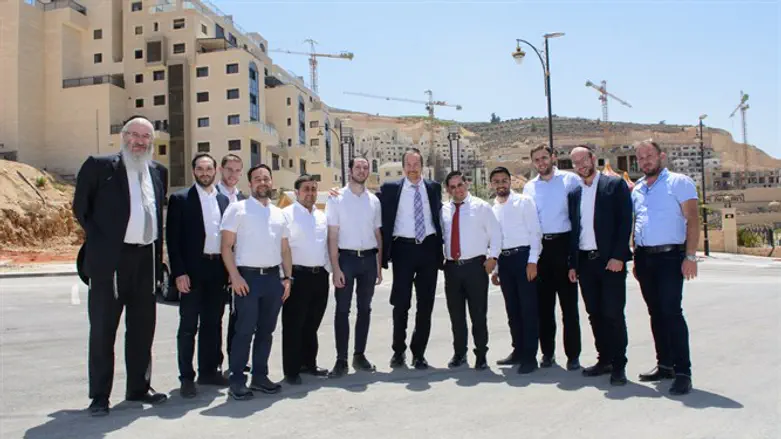 Ramat Givat Zeev residents welcome Rabbi Avraham Horowitz
Spokesperson
The excitement among the residents of the new Ramat Givat Zeev community was palpable. A greatly anticipated meeting was held with Rabbi Avraham Horowitz who was subsequently appointed to run the neighborhood schools.
Rabbi Horowitz, a senior rabbi of the Jewish community in Chile and director of the orthodox Chilean Jewish school, is expected to make aliyah to Israel in the coming months and to live in the remarkably unique neighborhood of Ramat Givat Zeev.
Dozens of families have already moved in and are enjoying seeing the wonderful development of its expansive parks, religious services and schools. They have also expressed a deep appreciation toward the uncompromising attention to detail that has been contemplated and planned in the project to respond to all of the residents' needs, with an emphasis on construction/completion before occupancy.
The issue of education is of course very important to the residents of the neighborhood and much time and effort has been invested to find the right candidate. The representative committee met with Rabbi Avraham Horowitz, after the rabbi met with senior council members of Givat Zeev and enumerated some important principles essential to the success of the school and community, while stressing the centrality and utmost importance of communal shalom [peace] and unity.
The rabbi also noted that the education of our children in these important areas of life starts at home, and parents must model community harmony for it to become an achievable educational goal. There was a spirit of great potential and expectation in the air during the meetings as well as a warm feeling of congeniality.
Rabbi Horowitz has his semicha from Yeshivat Ner Israel and studied at the Mir Yeshiva in Israel as well for a few years. After seven years in Kolel he, along with his wife Shira, made pioneering efforts to start a community in Chile, where he served as community Rabbi and eventually as Director of Maimonides School, which runs from Gan through High School, for 21 years. The rabbi agreed to leave his position which he helped build to devote himself to our new and exciting challenge, which is composed of a new Olim population and a diverse population in general. "This is a great achievement", residents noted. The rabbi stated that with siyaata dishmaya and the proper focus, we can create an exemplary educational system and surrounding community.
The builders of Ramat Givat Zeev note that the elementary school buildings/institutions for both boys and girls will be finished in the coming months thanks to the approval of a grant from the Ministry of Education of approximately 23 million NIS, and are expected to open for the 2019 school year.