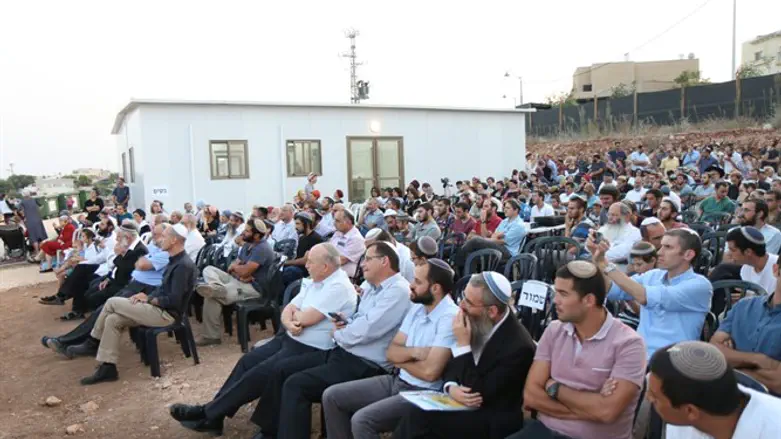 Inauguration of the new yeshiva
Eitan Shweiber
A new hesder yeshiva was established on the first of Elul in Kfar Tapuach in Samaria: "Avinoam Yeshiva" in memory of Avinoam Cohen, who was killed in a training accident in the Golan Heights a year ago.

The inauguration of the yeshiva, which was established as a branch of Yeshivat Elon Moreh under the leadership of Rabbi Elyakim Levanon where Cohen had studied, took place recently in the town of Tapuach in the presence of rabbis, Knesset members, and the parents of Avinoam, Shimon and Gila Cohen, and his family, as well as military officers and other figures. The event took place on the memorial day for Avinoam.

Rabbi Elyakim Levanon said at the event, "23 years ago we set out with the beit midrash in Elon Moreh, and now we are adding another layer with the building of another beit midrash."
"Avinoam fell and is not with us, but his strong spirit is still here. As the midrash says, 'Scrolls are burned but the letters rise into the air.' The spirit can never be broken."
The head of the Samaria Regional Council, Yossi Dagan, said at the ceremony, "I am very excited to be here, to see Rabbi Levanon here with the huge vision, in all of Samaria. Anyone who goes around Samaria today sees the realization of the vision of the prophets. It's not theory but reality, and we get to be partners in it. We get to be the sons who come home. The western world grows by half a percent each year, and Samaria is growing at an incredibly larger rate than this."

The head of the yeshiva, Rabbi David Amitai, noted that "Judaism has never been enthusiastic about genius and special talents, but rather by toil and effort, and towards this we are educating here."
Shimon Cohen, Avinoam's father, said at the event, "This meeting is a wonder and miracle, in the name of my son Avinoam, I would like to thank you for the privilege to establish a yeshiva in the heart of Samaria where our forefathers walked."

Elyasaf Parshan, Vice Chairman of Elon Moreh Institutions, said, "Several decades ago Menachem Begin said, 'There will soon be many Elon Morehs,' and today we are getting to build another Elon Moreh, and with G-d's help, the Torah will spread and settlement will grow."
The hesder yeshiva in Tapuah is, as stated, an extension of the Elon Moreh yeshiva. The yeshiva, headed by Rabbi David Amitai, who in recent years was head of the Elon Moreh yeshiva and was now asked to head the new extension, now has 60 students and the demand for it is increasing, the yeshiva says.