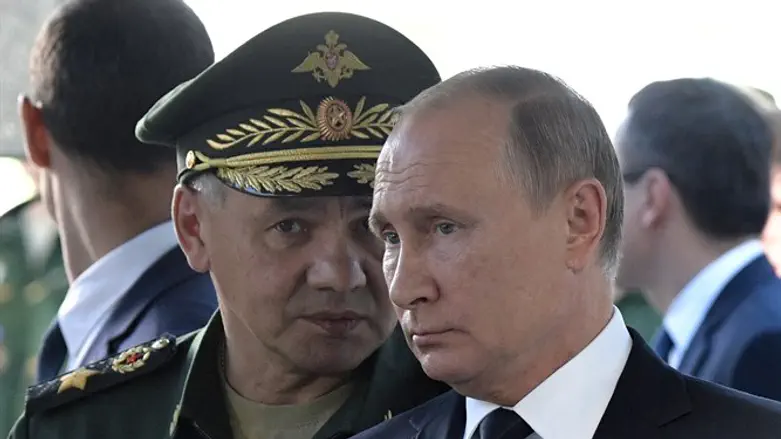 Russian President Vladimir Putin and Defence Minister Sergei Shoigu
Reuters
Moscow is sharpening its tone against Israel following the downing of a Russian plane by the Assad army during an Israeli attack on Syria.
The Russian Embassy in Israel today assigned responsibility to Israel for the plane's downfall.
"Moscow views the Israeli Air Force actions as irresponsible and unfriendly, after exposing the Russian Il-20 to danger and leading to the death of 15 soldiers," the Embassy tweeted on its official account.
Russian spin: RT coverage of Latakia incident:
"Russia will take all necessary measures to remove the threat to the lives and security of our soldiers fighting terrorism."
An IDF delegation led by Air Force Commander Maj. Gen. Amikam Norkin is leaving for Moscow this morning after the Russian plane was shot down by Syrian anti-aircraft fire on Monday night.
The Commander of the Air Force and the delegation will present the incident in all its aspects, including the preliminary information and main findings of the IDF investigation of the incident.
The Israeli delegation will also present continued Iranian attempts to transfer strategic weapons to Hezbollah and establish themselves in Syria.