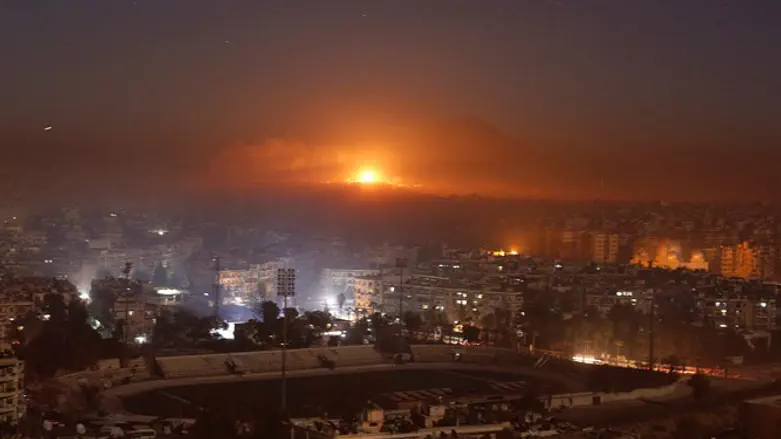 Strike in Syria
REUTERS
The Israeli military denied Russian claims Tuesday that Israel Air Force jets were responsible for the downing of a Russian military aircraft in Syrian airspace overnight.
Israeli jet planes hit targets in northern Syria late Monday night and early Tuesday morning, reportedly striking weapons research facilities operated by the Assad regime.
Shortly after the strikes, Russia claimed that an Ilyushin IL-20 turboprop reconnaissance aircraft had been lost while flying over Syria.
The Russian Defense Ministry later blamed Israel for the downing of the IL-20, which had been carrying 15 crew members at the time.
A defense ministry spokesman said Israel had warned the Russians a minute before the strike, and 15 Russian military personnel were killed in the crash.

The spokesman condemned Israel's "irresponsible actions" and said that Moscow reserved its right to take appropriate measures after Israel's "hostile action."
"Israel created a deliberate provocation, it is inconceivable that the IDF did not see the Russian planes that were preparing to land," the Russian defense ministry said.
While a US official with knowledge of the incident told CNN that the IL-20 had been shot down accidentally by Syrian anti-air missiles fired after the Israeli strike, Russian officials claimed that reconnaissance plane had been shot down before the Syrian air defense network had been activated.
The IDF denied the Russian claim in a statement released Tuesday afternoon, stating that Israeli aircraft had already returned to Israel airspace when the Russian plane was shot down.
Israel also acknowledged it was responsible for the overnight strikes – a rare break from its policy of not commenting on operations against Assad regime targets.
"Overnight, IDF fighter jets targeted a facility of the Syrian Armed Forces from which systems to manufacture accurate and lethal weapons were about to be transferred on behalf of Iran to Hezbollah in Lebanon."
In the statement, the IDF expressed "sorrow" over the loss of the 15 Russian aircrew members, but emphasized that the blame lies with the Syrian government.
"Israel expresses sorrow for the death of the aircrew members of the Russian plane that was downed tonight due to Syrian anti-aircraft fire.

"Israel holds the Assad regime, whose military shot down the Russian plane, fully responsible for this incident.

"Israel also holds Iran and the Hezbollah terror organization accountable for this unfortunate incident."
The IDF said that an initial investigation into the incident suggested that immediately after the Israeli airstrikes, the Syrian air defense network fire a large number of missiles, one of which accidentally struck the Russian aircraft. The report noted that the Israel Air Force planes had already returned to Israeli airspace when the Russian plane was hit, and that the Russian aircraft was not in the area of the airstrikes while Israeli aircraft were operating there.