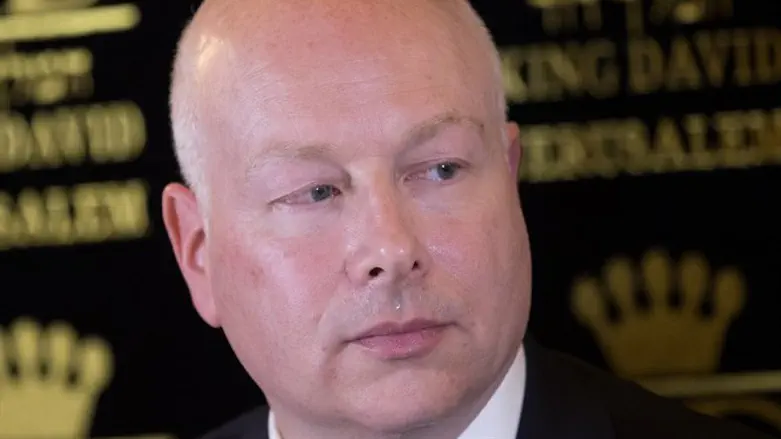 Jason Greenblatt
Flash 90
Jason Greenblatt, the US Special Representative for International Negotiations, said on Thursday that the Trump administration is prepared for Israeli criticism of elements of its coming Middle East peace plan.
In an interview with the Reuters news agency, Greenblatt said US negotiators had entered the "pre-launch phase" of the plan, despite a boycott by Palestinian Authority (PA) leaders.
He declined to specify a time frame for when the plan will be unveiled, except to say it would not be announced at the UN General Assembly gathering in New York later this month, as was previously reported.
Pushing back against widespread perceptions among Palestinians, Arab officials and independent analysts that the peace plan is likely to be decidedly pro-Israel, Greenblatt made clear that both sides can expect parts they will like and dislike.
"We're going to have to defend the plan to Israelis and Palestinians. We are ready for criticism from all sides, but we believe this is the best path forward for everyone," he told Reuters.
Greenblatt did not provide an explanation of what might disappoint Israelis about the plan.
The Trump administration hopes Saudi Arabia and other Arab allies will support its peace plan once it is released but does not expect them to "try to push the Palestinian people into a deal that the Palestinians don't want," he said.
PA chairman Mahmoud Abbas has refused to consider the Trump administration an honest broker for negotiations since Trump's recognition of Jerusalem as Israel's capital last December.
PA officials have repeatedly rejected the Trump administration's peace proposal, claiming it was coordinated with Israel.
However, the Trump administration has signaled it is unlikely to be deterred from rolling out the plan even if the Palestinians continue their boycott.
With the "political component" of the plan at the point where it covers all core issues of the decades-old conflict, "We do have to get the economic portion of the plan finished," Greenblatt told Reuters, adding, "A successful economy is critical for the Palestinians."
Greenblatt told Arutz Sheva recently that "the plan, when released, will reflect ideas that we think are realistic, fair and implementable that will enhance the lives of the Israeli and Palestinian people. We will not discuss any specific ideas or private conversations that may or may not have been had with leaders in the region."
He also wrote on Twitter recently that while neither side will be fully satisfied with the Trump administration's peace proposal, it is the only way to achieve true peace.
"No one will be fully pleased with our proposal, but that's the way it must be if real peace is to be achieved. Peace can only succeed if it is based on reality," he said.