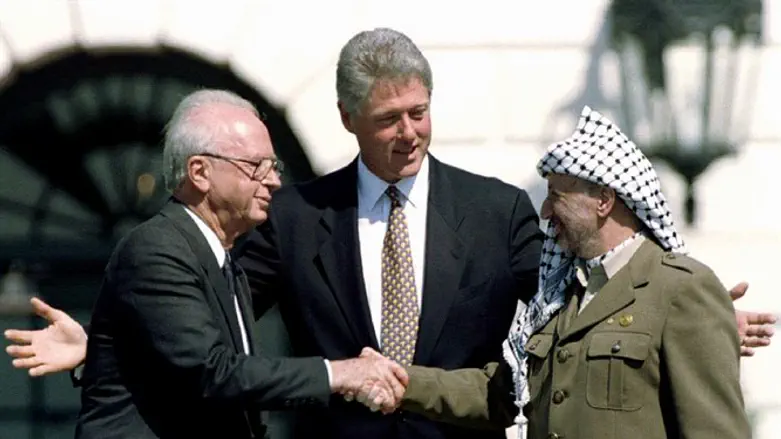 Oslo accords
Archive: Gary Hershorn, Reuters
Historical distortion? Interior Minister Aryeh Deri said today that as a member of the Rabin government, he "wanted to" oppose the Oslo plan, but his spiritual mentor Rabbi Ovadia Yosef ordered him to stand down.
"As a government member, I wanted to vote against the Oslo agreements, but at the last minute Rabbi Ovadia Yosef ordered me to refrain," Deri told Army Radio.
He added, "I sat next to the Chief of Staff at the time, Ehud Barak, who told me the agreement was full of holes like Swiss cheese. I informed Rabin about my objections and then (Rabin's personal assistant) Shimon Sheves turned to Rabbi Ovadia Yosef who called me. I explained to him the opposition of the security personnel to the agreement and he told me: 'Abstaining from action is preferable'."
Rabbi Ovadia Yosef
Flash 90
The Shas Chairman admitted he had absorbed the subsequent criticism. "I paid a heavy price because of people from among us and others, who wanted to demonize Shas, and painted it as if I led Oslo. My big mistake was that I didn't immediately refute these lies."
He also said that in a personal diary published by Rabbi Ovadia Yosef 18 years ago, he told him to abstain in the vote despite the political price.
Deri: 'Wanted to' oppose Oslo
Flash 90