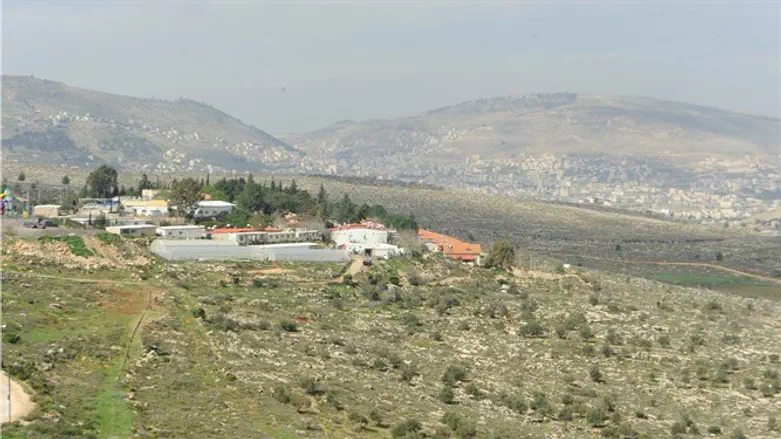 Itamar
Spokesman
The school year that opened in Itamar, near Shechem, brought with it many students from surrounding communities to its elementary schools, while high school and yeshiva students came to learn from far away places.
The community's elementary school consists of 260 students from Itamar and other communities such as Yitzhar, Kedumim, Givat Ronen, Tapuach, Har Bracha, and Elon Moreh. Children from outside the locality constitute 30% of the students in the schools. The community's kindergartens are also filled with many children from surrounding villages.
Elementary school Principla Rabbi Tzion Biton says this year there was an increase of about 40 students compared to previous years: "The educational institutions in Itamar have set a goal of raising a generation of students who love Torah and the Land of Israel.
"The close connection between the yishuv and the school and the management is evident in many collaborations and what we hold in common in all aspects of education in the community," added Rabbi Biton.
The Chitzim yeshiva in the settlement opened this year with about 200 students, with a new class of about 60 students, which is steep growth compared to previous years. Chitzim students come from many places around the country, such as Hadera, Netanya, Beit Shemesh, Jerusalem, and more.
General view of Itamar, Samaria, Israel
Reuters
Ayala, the mother of one of the graduates of the Chitzim Yeshiva who lives in Netanya, says the long journey was not an obstacle: "There are no words to describe this place. My son decided he wanted to be there. The trip was totally worth it."
Pnina, the mother of a student who lives in Lod, says: "The Rabbi from Itamar and the entire staff simply built up my son. There's no doubt that the atmosphere of the community is what allows and gives ground to this special educational project. We're completely satisfied. Despite the travel and the distance - we have a flowering child at home. Itamar grows people."
The upper yeshiva in Itamar headed by Rabbi Yehoshua Van Dyke opened this year with some 200 students from all over the country, including Yeruham, Hispin, and other places. Approximately 60 students entered the yeshiva's first class. A ceremony was recently held to lay the cornerstone for the students' dorm, and in the near future construction of the residential buildings will be completed.
Itamar Mayor Hananel Elkayam said: "Itamar has been blessed with quality and dedicated institutions and educators. This year, there was a significant increase in the number of students - from kindergarten to high school. The spirit and atmosphere of the yishuv are well-discernible in the educational institutions that constitute the essence of the yishuv's settlement and Torah conception."
Horse stands on hill next to Itamar, Samaria, Israel
Reuters