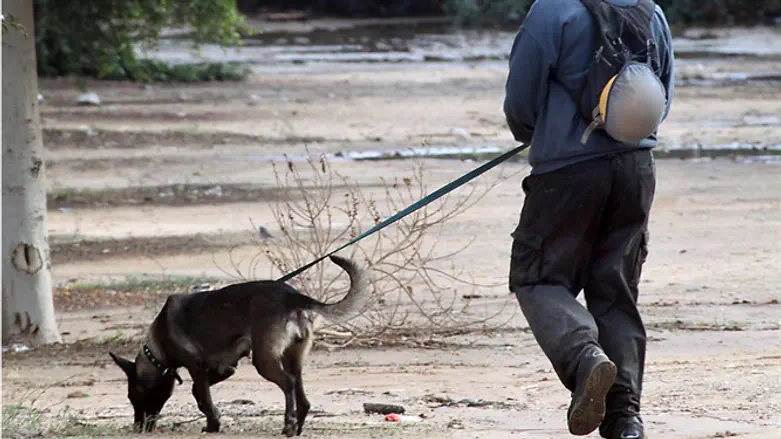 Rescue dog and handler search for missing person
Flash 90
H.K., a 27-year-old woman from Nahariya reported missing since Thursday was found and rescued by the Israel Dog Unit in an abandoned building in Netanya 5.00 AM Sunday morning. K, who was found unconscious, had apparently overdosed and would likely have died had she not been found in time according to paramedics on the scene of the rescue.
The Israel Dog Unit (IDU) was called to the search by family and friends after police requested help from the public, considering this a high-risk search in view of recent failed suicide attempts by K. The IDU immediately dispatched a red alert calling for volunteer dog handlers, and drone pilots to meet near the area where the phone signal was last detected from K's mobile phone. There the dog unit set up a makeshift command center.
Dispatching dozens of volunteers to different areas, the IDU continued to lead the investigation and learned of an area near Netanya where, not far from the phone signal, K had been found in the past. The police sent an officer to the very same abandoned building, however nobody was found. One hour later, Arye Yavin, a veteran dog-handler from the IDU and Rami Teva, the brother of Norit Teva z"l, another missing person who had been found dead several weeks ago, found K. unconscious on the third floor of the building.
Yavin and Teva immediately called Magen David Adom to send an ambulance that took her while she was still breathing to nearby Laniado Hospital. When police on the scene were asked how it could be that they did not find her if they'd searched that very same building earlier, officer Marad Barik responded that he had only gone as high as the second floor.
When IDU Commander Yekutiel Guzofsky asked police captain from the local precinct Doron if the police had the info all along, why they had not dispatched volunteers or police to search the building as early as Thursday when K. was surely in better condition, Doron responded, "I already learned from our mistake and understand this was missed by multiple police precincts. I'll save your number for future searches, thank you, have a good New Year."
Policeman and Rami Teva outside building where K. was found
Israel Dog Unit
Rami Teva, the IDU volunteer who actually found K. is not an ordinary volunteer. Rami was enlisted into the Israel Dog Unit during the long and drawn out search for his sister Norit. Norit was ultimately found dead five months after she went missing, several weeks ago. Rami had pledged to help the IDU in future searches. Guzofsky and Teva stood outside the building as K. was whisked away to the hospital by the ambulance. Both men hugged each other as tears of joy mixed with sadness ran down their faces. Guzofsky said to Teva, "Rami, you saved a life today; I'm sorry we couldn't find your sister in time. She's obviously rooting for us in Heaven. We didn't save Nurit. But today, in her memory you saved another life."
At the debriefing session held immediately after the find, Guzofsky thanked all the dedicated volunteers and urged them "to add in their prayers this Rosh Hashana thanks to the A-lmighty for making us the tools and messengers to save lives, and pray that all our searches end happily with the rescue of the missing people and the lost souls we search for."