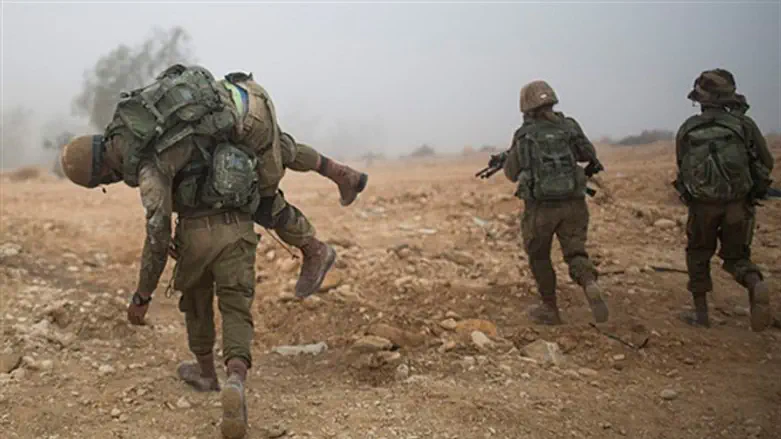 Military exercise in mixed gender unit
Flash 90
Dramatic gap: According to data received by Arutz Sheva, 46% of female combat officers failed their annual fitness exam this year.

In contrast, the percentage of failures among male officers was only 10%.

According to army protocol, each combat officer must successfully pass the physical fitness exam once a year, and the examination is a condition for receiving a rank or appointment for any position in the ground forces.

The test was conducted at Training Base 8 (the Wingate Institute) and includes an "operational navigation" run, an obstacle course and an assessment of shooting ability following intense physical effort.

Last year, 2017, the percentage of female officers who did not pass the fitness exam was 33%, and the percentage of male officers who failed the exam was 7%.
The IDF Spokesperson said in response: "The data show that 46 percent of female combat officers and 10 percent of male combat officers who carried out the last qualification test (which is identical for both sexes) did not pass some of the measures on the obstacle course. These results will be studied and tested."

The IDF noted that "Many steps are being taken to adapt training and combat fitness programs to female combat soldiers," including the addition of more combat fitness officers and instructors per group of soldiers.
"In addition, there is a regular process of building female soldiers by adapting the effort bar along with training programs adapted to the physiological differences between the sexes, while ensuring graduality. In addition, there are explanations in the areas of sleep and proper nutrition for female combat soldiers and lectures in the field of combat fitness for battalion and platoon commanders entrusted with training male and female combat soldiers while ensuring strict adherence to the appropriate procedures. "
The data on the physical difficulties encountered by female combat soldiers in the IDF do not prevent military commanders from continuing to integrate them in any possible combat role. Only last June, the training of female soldiers who were drafted for the first time to the armored corps ended, after which they began to serve as combat soldiers in IDF tanks.

Of the 15 girls who enlisted in the armored corps as part of the pilot program, ten finished their training, and four of those completed an additional tank commander course and will serve as tank commanders in the armored corps. Brig. Gen. Guy Hasson, of the armored corps, said at the time that every tank under the command of a female commander would have only female soldiers, and that there would be no mixed tanks.
Last year,Arutz Sheva revealed an IDF document that painted a disturbing picture of the physiological prices paid by women in combat roles.

The document was written under the auspices of the chief of staff's advisor on gender issues, and reveals that female combat soldiers have more health problems than their male counterparts: stress fractures, heat injuries, lower back pain and knee pain, anemia and urinary tract infections.